In 2012 brought me to my knees unlike any other time when saying good bye to a FRIEND..... when you raise one and train it and when you ride it that mare made your heart pound, your blood flow and your lips smile..... Carolyn my Chex/Lana foal (see her below on Lean's post) she was my everything and she had gotten hurt on July 4th and we took her to Idaho Equine she made it home and things were looking great, she was getting around and we had put alot of money into her, if never to ride again but to be a great mom and broodmare, well the lord had a need I guess for s super GREAT horse... and on August 25th I came home from camping and found her laying in the barnyard, she was not moving and when I got to her she was still warm and eyes still moist. I dropped to my knees and begged her to come back and not to leave me. I had so many more rides to take with this beautiful talented BIG hearted mare she was only 8 years old and I can't tell you how many times she made me smile and feel amazing for having such a great horse under me. In spring of 2012 I was using her moving cows out Zumalt and we had a bull that didnt' want to stay with the herd and Carolyn never said no to me pushing her into this BIG BLACK ANGUS bull and pushing him with her body, she was not a big mare but had the biggest heart ever!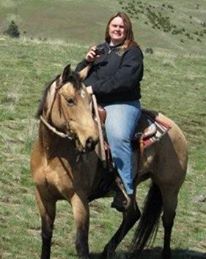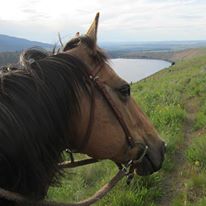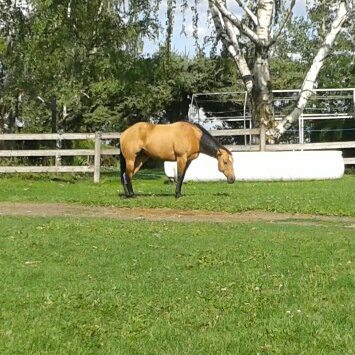 1st picture is my 2011 birthday ride, the head shot is on the east side of the lake in 2012, the last photo was the last one taken of her 8-2012
We have had a few GREAT horses leave us in the last couple years and some are harder than others to move on past. One was one of our super lesson/ranch even pack horse named Piazza she was leased out and proving she had a huge heart with great talent. She got sick and was taken to Idaho Equine where she was too sick to help and they were not sure what the main cause but we decided on July 2011 to put her down.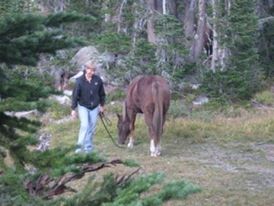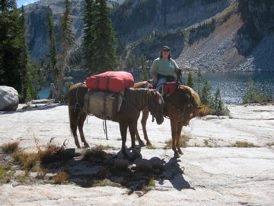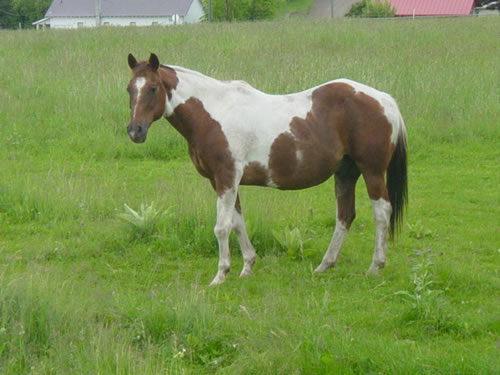 Charlie "Coconut Charlie" 1979 APHA gelding- my 4-H and Rodeo Court horse and then went on to be Jalyn's first horse. Charlie taught many the joy of riding. He was laid to rest in 2009 on the ranch with all of us near. He rests near the arena corner where he loved to be. Two of my fondest memories I have of Charlie is one the first time I took him to move cows at the Paradise Ranch. He was an arena horse, and some cows came out from under the brush trees and Charlie high tailed it the other direction. Another great memory was when I was ponying Charlie with Jalyn at a junior rodeo and Charlie was kicking up his heels! He loved to please.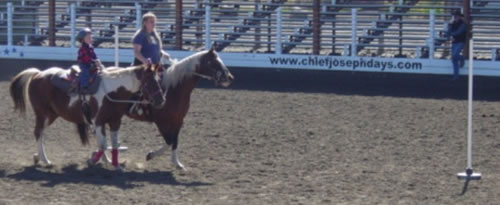 Jalyn running poles on one of our many kid friendly Dun the Right Way Ranch horses.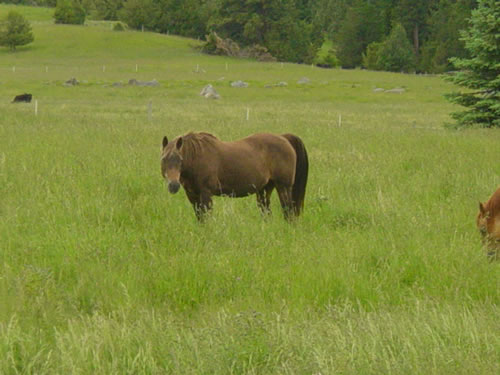 Jeremy our 27 year old Registered Appy gelding, was laid to rest 3/23/2007. Jeremy taught many kids to ride and squashed their fear of horses. Jeremy was given to us because he was blind in one eye, and his owner wanted him to live out his years in green pastures. He is laid to rest at the Ranch.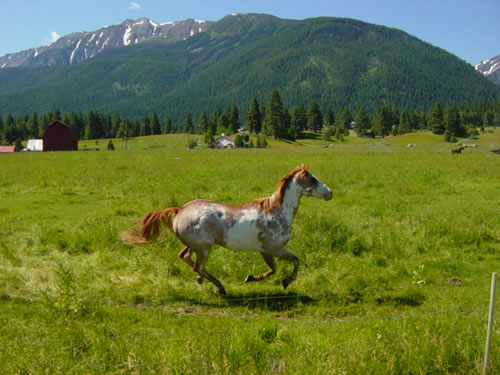 Wrangler "Foreman's Wranlger" 15 year old APHA gelding, retired drill team horse, and mount to Destiny and other small children learning to balance. He was a fun horse. He was given to us with serious feet issues, and we were able to get him to live a few more years at the Ranch. He was laid to rest in 2007. Destiny says he runs in heaven with her other pets. She misses this horse!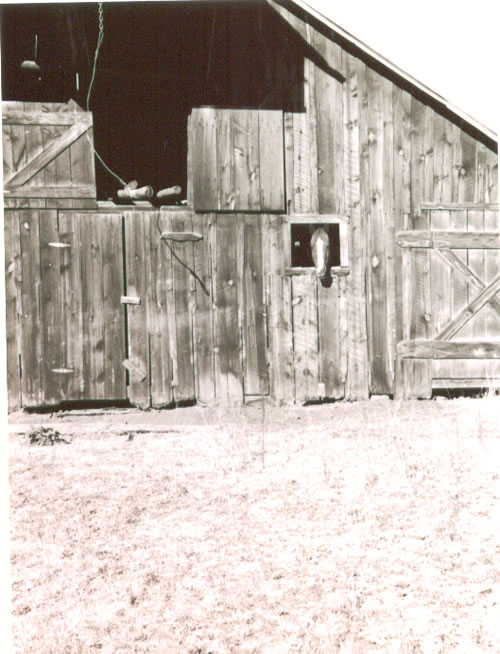 Poco 27 year old AQHA gelding retired rope and ranch horse used in many lessons in his last few years. Laid to rest April 2006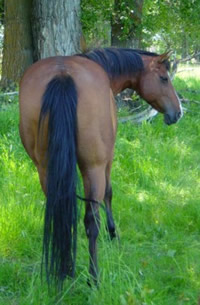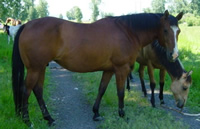 Go Lucky Pepsi #2986404 1991 bay mare; Pepsi is mother to so many greats: Stallion Dun Uncola, Chexs Go Lady, Chexs StarlitsSurprise, and Chexs Dun Dualin to name a few.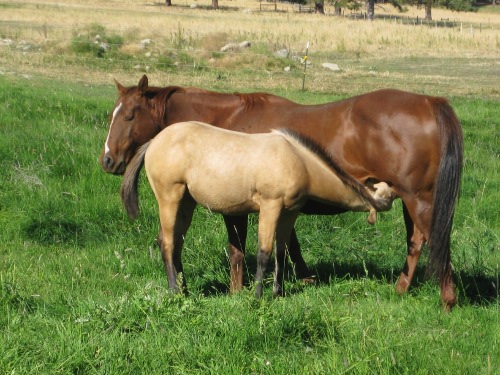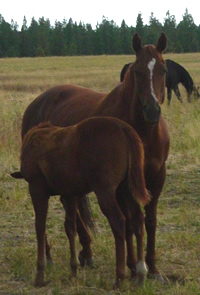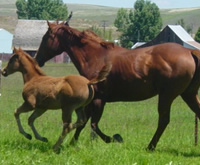 Doc Skipa Ginger Bar AQHA #3893108 1998 sorrel mare. Ginger we lost to an accident at the ranch. She produced some great foals for us, and made me a believer in sorrels as she served as a lesson horse, drill team horse, and trail horse to anyone that needed a GREAT RIDE.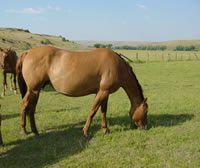 Bee Santa Fa Sissy AQHA # 3224941 a 1993 Red Dun mare. Sissy was a mare I brought from Montana on her bloodlines of Sonny Dee Bar being her grandsire. She gave us great foals and we lost her in the spring of 2008. She gave us one last foal--a dun stud colt the day before we said good bye to her. We miss her daily! Her bloodlines are not ones you can easily replace in today's age of new fade bloodlines. See some of her foals below.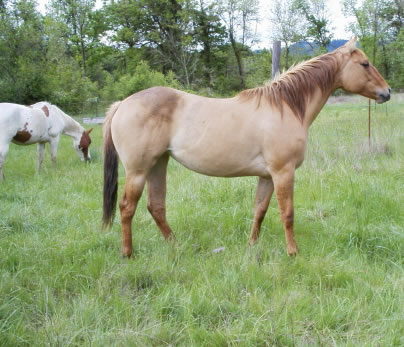 Chexs Faith Dun aka Faith. 2003 Rose Dun mare raised by Dun the Right Way Horses out of our Sissy mare. Proudly owned by Alona Anderson of Williamina, Oregon.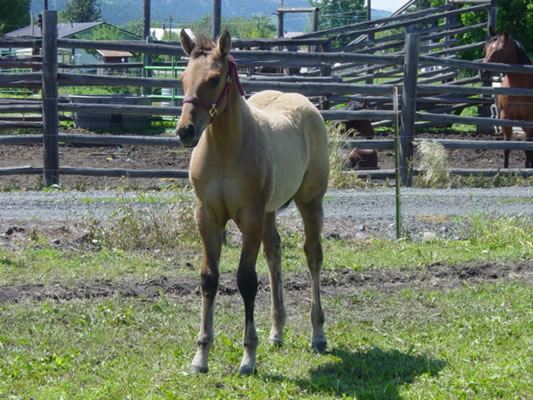 Chexs Dun Dream aka Dreamer. 2004 AQHA Dun filly raised by Dun the Right Way Horses out of our Sissy mare. Proudly owned by Michelle Janes of Dallas, Oregon.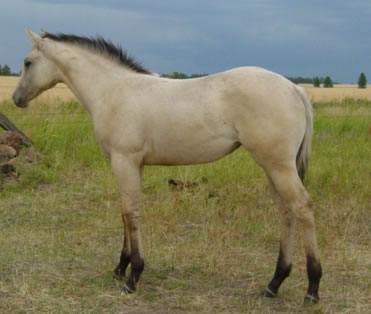 Chexs Bee Nala aka Nala. 2006 Silver Dun AQHA filly raised by Dun the Right Way Horses out of our red dun Sissy mare. Proudly owned by a family in Lebannon, Oregon.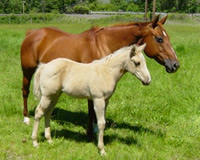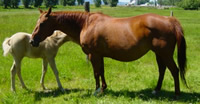 Marybyrls April aka Lena... AQHA # 2665438 a 1987 sorrel mare. Lena is what we called her, used for trail rides, lessons, drill team and more. She was a solid minded horse with so much to offer. As a note to the love I have for this mare, I own one of her Chex fillies- Caroline. She is my main riding horse and has the mind of her mother. We lost Lena to colic one spring day, and she left her last foal behind to become our first orphan-bottle baby. We learned many things about horses and their bond that night! See some of her great foals below.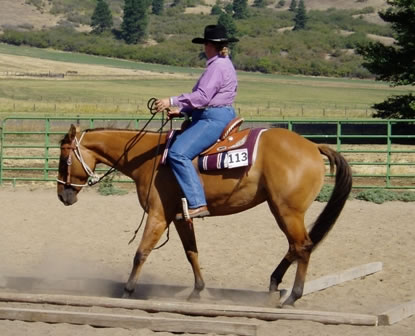 Chexalenasdun aka Lacy. 2001 Dun mare raised by Dun the Right Way Horses out of our Lena mare. Proudly owned and ridden by Glenda at KB Ranch Quarter Horses in Scio, Oregon. Futurity winner & point earned in Trail & Western Pleasure (trained and shown by Vixen Radford). Lacy is used for team penning, trail riding and other fun family things!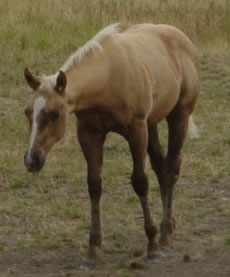 Chexs April Ariel aka Ariel. 2006 AQHA Dark Dapple Palomino filly raised by Dun the Right Way horses out of our sorrel Lena mare.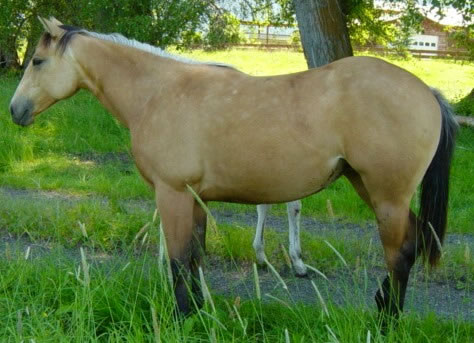 2005 AQHA Buttermilk Dun Filly raised by Dun the Right Way Horses out of our sorrel Lena mare. We are keeping this great filly for our kids to use in 4-H and around the ranch. She will be an all around mare with great color to show off in parades, and drill team events.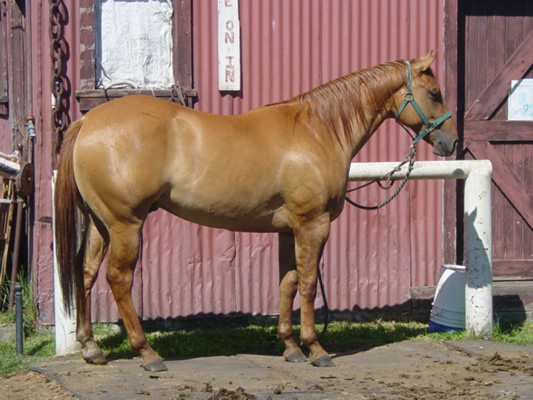 Mister Chex A Lena aka Mister Mister. 2003 AQHA Red Dun gelding raised by Dun the Right Way Horses out of our sorrel Lena mare. Proudly owned, shown and ridden by Mike Gammelgard of Oregon City, Oregon.He is a rope, barrel, and trail horse.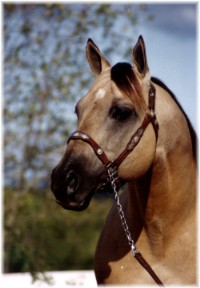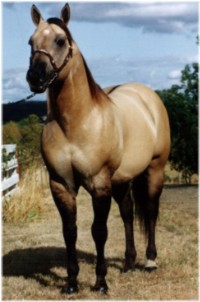 In Loving Memory - Sonny OO Buck ( Sonnys Bar Chex's Sire) by Sonnys Nightshade(Sonny Dee Bar) x Georgie Shasta (Shasta Music). Sweet Sonny has brought much joy to our barn and we miss him very much. We owned and loved him for 13 incredible years. Due to a long illness, he was put to rest, along with one of his aged brides, in a soft green meadow. He left a legacy of beautiful, talented horses that have enhanced the lives of many and one last foal crop in 2004!
Thank you Sonny for being a special part of our lives! We miss you!
Sonny was a 1982 AQHA Buckskin Incentive Fund Stallion that was AQHA Grand Champion and Western Pleasure Winner, IBHA Supreme Champion and 1985 IBHA Reserve High Point Halter Stallion. He has sired Outstanding Western Pleasure, Reining, Working Cowhorse, IBHA Supreme Champion, Multiple ROM's and AQHA World Qualifiers.