Howdy, Partner!

orn and raised on the back of a horse in the Joseph Creek Canyon of Northeast Oregon, life for me began in country the Man from Snowy River would love! As a kid, moving cattle was more of a job than fun; but, as I grew older I found myself enjoying the ride more and more - grateful for the lifestyle and beautiful scenery. I had many childhood riding honors from 4-H court in 1987- 1991 to "All-Around Horse Showman" in Wallowa County 4-H; as well as judging, public speaking, and FFA honors. In 1990, I was crowned Queen of the Chief Joseph Days Rodeo court.
I knew, watching the boys "break" the Quarter/Arab crosses we raised on the ranch, that I wanted to be a trainer – not a breaker. I pursued that dream at Linn Benton Community College. I studied under the great instructors Jim Lucas and Gail Mann, paying my way through school by working at barns like Gail's and other fine facilities. I had the opportunity to work with halter horses, western pleasure, cutting and team penning horses. Every discipline taught me something new. I graduated top of my class in 1993 as outstanding Equine Management student two years in a row, receiving an Associates of Science in Horse Management. My roommate and I helped begin an Equine Team that worked on community service projects and other events for the college and the horse program.
After college, I returned to the east side of the state to be a member of the Eastern Oregon Livestock Rodeo Drill Team for three years.
Here, I am living my dream – helping many others live theirs by providing horse lessons, training, clinics and retreats. During this time, I've also raised, trained, and shown my own horses and clients' horses to win titles in barrel racing, western pleasure, reining and trail. I have trained all-around youth horses, rodeo court horses, and all-around "dream to own" horses. I won all around titles at shows with my own horses as well as other people's horses. I am not driven by showing or winning. I am driven by watching others enjoy their horses and if that means winning and riding in shows. I love to make that happen. I would rather sit on the side lines and help a client with their horse to show and win.
Outside of those jobs, you will find me as Captain of the ADD Team (Almost Dead Drill Team), a 4-H leader, a member of Miss Rodeo Oregon Association, a PNW 4-H Senior/Dad Potter judge and, most importantly, Mom to Jalyn and Destiny.
I offer clinics at our ranch near Enterprise and Joseph, or will travel to your facility. Whether beginner or advanced, I can help you achieve your horsemanship goals: from gaming to trail to pleasure. Every year, we've expanded our ranch retreat program to offer more for horse owners, families and friends. We have cattle drive retreats, horsemanship retreats, and dream vacations – a super time for women, couples, kids and more!
My philosophy is to tailor the training to fit the individual personalities of the rider and the horse. No two horses or people will have the same backgrounds, experience, skills or requirements. Lots of trainers can give you just the technical process to achieve a goal. That's just the first part. Success is built through encouragement and positive learning experiences.
"Educate the Dreamers, and they will ride their Dreams to the top!"
Vixen's resume
Equine trainer, judge, clinician
EXPERIENCE
2006-Present Miss Rodeo Oregon member, judge, trainer and clinician
Judging Rodeo Court competitions throughout the PNW (ID, WA, OR); teaching day, weekend and week long clinics as well as private lessons; instructor of horsemanship

2005-Present Founder-Captain, ADD Team (Almost Dead Drill Team)
ADD Team is a group of women in the "over 30 crowd" tied together by their love of horses. We practice to develop our horsemanship skills, and perform precision drills for parades and rodeos

2002-Present Senior/Dad Potter PNW certified 4-H Judge and Clinician
Judging 4-H and open shows throughout the PNW; providing clinics (day, weekend and week long) and private lessons

2001-Present Founder-Operator, Changing Strides
Changing Strides is a Non-Profit Organization dedicated to horsemanship and personal well-being through youth camps, women's retreats, family outings and trainings. Our long-term goal is to provide an arena in Wallowa County for year-long, multi-purpose use.

2001-2011 Leader, Star Riders 4-H Horse Club
Have worked with 20 youth to advance their horsemanship, set and achieve goals, and develop leadership.

1995-Present Trainer/Owner, Dun the Right Way Horses & Custom Training
we stand two of our own stallions at our ranch, providing Quarter Horse foundation breeding with color! The colts we raise, train and sell are bred to fit all aspects of the equine industry. Training includes our own stock as well as outside horses and lessons on a scheduled basis. Horse boarding also provided.

1994-2002 Trainer, JAC Ranch
Trained, conditioned and showed endurance and pleasure Arabians for JAC Ranch.

2011- present Leader, Rusty Spurs 4H Club; working with boys and girls of all ages to help them advance their horsemanship to the levels that keep them safe and allow them to have fun.

2001-2008 Northern Idaho 4H horse Camp- Western & Gaming Instructor working with 6 to 10 groups daily of 10 to 15 youth and sometimes adults on riding skills with their horses during the week long camp.

2008- Goldendale, WA 4H Horse Camp- teaching western riding skills to all levels of youth with their horses.

2008- Women's Retreat at Dun the Right Way Horses Enterprise, Oregon 10 ladies from the PNW, teaching horsemanship in western, trail, and mounting shooting. Taking them on a trail ride and moving cattle.

2007- Extreme Mustang Makeover Fort Worth, TX. Took a 3 year old wild mustang in 100 days along with 100 other trainers and their horses, train my mustang, to be ridden and shown. We finished in the Top 15 in the In Hand Trail section, and the Top 25 in the complete competition. Featured in the Oregonian

2010- Living the Country Life Magazine- feature story on my training and ranch.
EDUCATION
2011 Road to the Horse Competition, Murfreesboro, Tennessee
Observed well-known trainers Clinton Anderson and Chris Cox, and Pat Parrielle apply their techniques in a two-day expo of their training skills with un-started colts.
2007 Road to the Horse Competition, Murfreesboro, Tennessee
Observed well-known trainers Clinton Anderson, Stacy Westfall, and Chris Cox apply their techniques in a two-day expo of their training skills with un-started colts
2004, 05 & 06 Clinton Anderson Clinics-Walkabout Tours

2004, 00, 98 John Lyons Clinics

2001/2003/2006/2008 Oregon 4-H Senior Judge Continuing Education, OSU Extension Service
Forums and trainings.

1991-1993 Associates of Applied Science Animal Technology/Horse Management
Linn-Benton Community College Albany, Oregon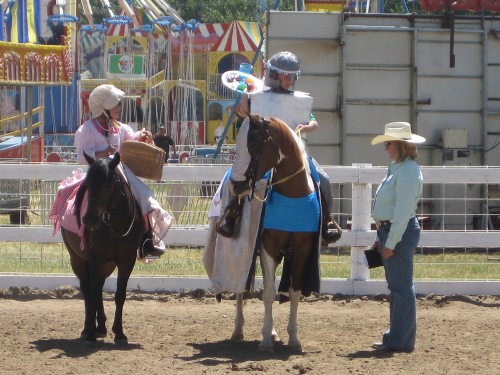 Judging a custom class at an Oregon County 4H fair