We specialize in providing boarding to fit the needs of the horse and owner. We provide pasture pens, dry lot pens, and pens that are near the outdoor riding arena.
We have 20 X 12 stalls designed with safety of your horse always at the front of every decision. The stalls can be made into 24 X 20 stalls if needed.
We offer full service boarding options for longer term boarding or for circumstances if a horse needs stalled for doctoring or on a vet's orders.
Hunters and campers coming in and need a layover are always welcome at our Ranch. We offer a shuttle service for your truck and trailer from one trailhead to another.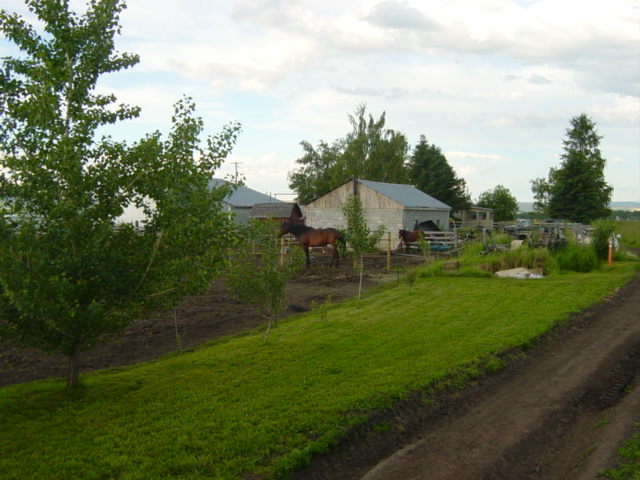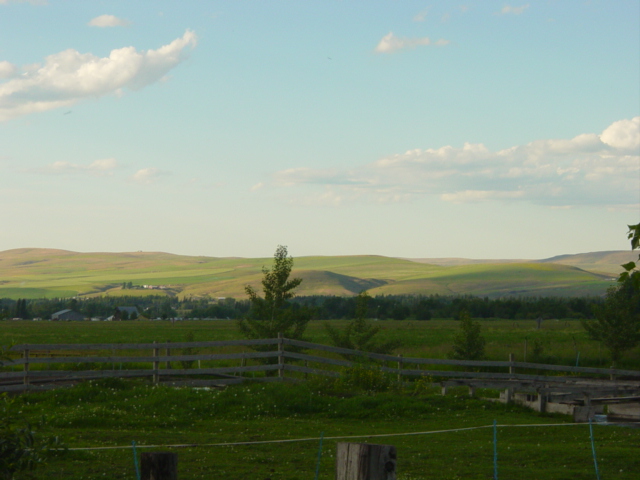 True Story... our Chelsea story: Years ago a cowboy from Tillamook, Oregon, was riding and packing horses in the Eagle Cap Wilderness. He had gotten off the trail for the pack station "dude riders" to ride by. A horse from the dude string had gotten too close to a pregnant mare of his and she fell in the rocks and injured her hind leg. He was able to get her out to the local vet clinic where a young vet with great talent gave him a couple choices: make the trip to WSU and have them do the surgery if the horse was even able to make the 2 hour trip over the curvy road or to let him fix it, which meant a cast that went up her entire hind leg. Her owner decided that let them do it here. They then explained that she couldn't be hauled back home, would need months of doctoring, and daily medication for her to maintain her pregnancy. They vet recommend me for the job. I had Chelsea here for months for daily regumate, doctoring her and the sores from the cast. I was there for the recovery every step of the way. Chelsea was finally able to make the trip home and foaled that next spring. Years passed and I hadn't heard from Chelsea's owner until the summer of 2011. I was out in the arena giving a lesson and there stood a man that looked like someone I might know. As I walked toward him, he introduced himself as Chelsea's dad.... He was back for a trip into the Snake River country and a filly of Chelsea's had fallen and gotten hurt. He had taken her to the vet and once again needed someone to care for her while he went back into get his other horses. I was the lady for the job.
This story brings me great joy to know that people trust me with their pride and joys, and believe in the services I provide. I like it when they come back for more help or assistance when needed.
Services Available
Indoor stall boarding
$350/ month summer rate
Pen/run boarding
$250/ month summer rates
Drop in boarding
$ 30/ day
Lunging
$20/ 1 time a day
Daily turn out
$7/ day
Daily blanketing

(owner providers blankets)

$7 / day
Administering medication

(owner provides)

$10 / treatment
Assist veterinarian
$20/ hour
Assist farrier
$20/ hour

HAY is NOT INCLUDED in the above Prices

owners must supply feed, hay and grain
We offer full service for all your needs -- need something else? Just ask, and it will be "DUN"!
*Prices subject to change without notice.