January 20, 2012
Today is the first blog entry for the new site! I can't wait to send word out to all my friends about the new sight. I am excited to embrace my passion for what I can offer others. It is not about me, it is about what I can do for others. I don't want to be the winner, I don't want to be at the top, but I want clients to be winners. I want them to LOVE their horses. I love all 21 of my horses!
Feb. 4th, 2012
WOW... what a great day... I got an email from the first lady booking two mares to Chex for 2012. As well as loaded up 3 Chex babies and hauled them to Lewiston to ride Hells Gate State park! It was a great ride along the trails, loping and troting, and then some river riding. Today also brought a new mare to our broodmare band. Her barn name is Mocha. She is an AQHA Bay mare that will be producing some super barrel and rope horses. I can't say enough about the GREAT feed back I am getting from those whom own Chex babies. I am putting this one in from a proud owner of a Chex baby that we raised, he has been a 4H horse, rodeo royality horse and trail horse for the mom! A horse for all the needs!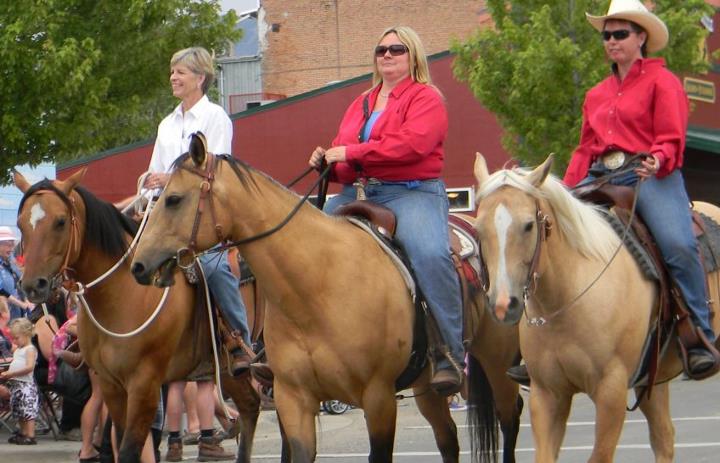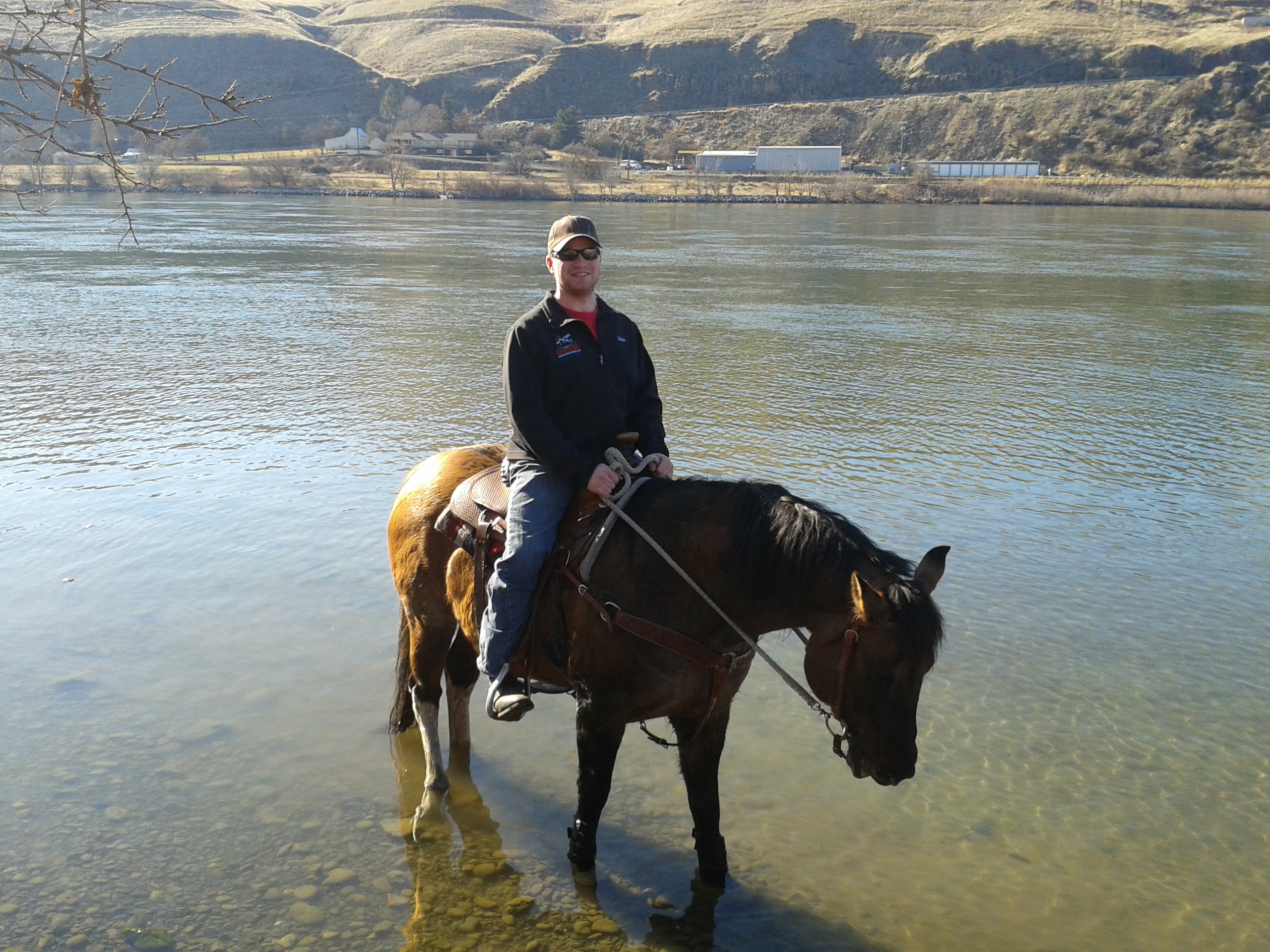 Riding a Chex baby will make you feel so many things!
Feb. 5th, 2012
Another GREAT day riding. Midge took me and Carloyn out Gofl Course. We got to lope some and long trot. It felt sooooo good. I love that mare. She has the best big walk, she covers the ground. She is truly a blessing. The other day I was coming back from feeding the herd, and I recall looking at the horses out there, all those Chex babies and I can remember thinking WHY am I keeping all these babies... and NOW I know. I have them cause they BRING ME great joy!
Feb. 7th, 2012
Notty is outside running around my herself barking and running circles and Hooey is watching her and then looking over his shouler at me like, Mom, she is CRAZY! I know we have our main focus on our horses, but I am amazed at our great dogs. The phone guy came the other day he had moved near here from Texas and he seen Hooey and said, " you wouldn't mind if I stole that dog would you?" he noted his great conformation, his true links to the old time healers. I am so happy to know we have quality horses, quality dogs, and offer quality training and lessons. Makes me smile! Have a great day friends, family and clients new and old!
Feb. 21, 2012
The horses are begging for dry ground. Kody is still spending time in the barn and Middy is next to him. I got to make another dream come true by spending a weekend with 11 kids of Wallowa County, we went with their families to Hermiston Horse sale. It would have been better if I could have been healthy, but it was pretty good to take the kids to the sale, and walk them around and show them how the sale works, and teach them skills for judging. We got to watch the sale and then took in some big time swimming at Wild Horse Resort for the evening. Sunday we went back for round two! A new client bought a horse for his daughter. It was fun to get to help them with the blanket, polo wraps and more. His name is Jasper and he is a beautiful sorrel gelding with a huge heart. And his new owner "Whit" loves him. She had a grin ear to ear. An idea was asked of me today... so I would like to hear your thoughts..... Would you like to see a page on the site for interactive training tips, judging tips and riding tips?
Feb. 23rd, 2012
The sun is out and the horses are resting in the field. It is a joy to see them enjoying their time and their home. We have been busy sending out breeding contracts and training contracts things are starting to get busy. Soon foaling season will be here. We have 3 babies coming this year. We have Allie in foal to an outside stallion, Dee is bred to Jigalow and this will be the last Jigalow baby ever. Then we have Gracie in foal to Chex. We have mares to breed to Chex new ones for the ranch and then we will be breeding Grace back, and maybe Fancy. I am sure Dee will be bred back to Chex. And then we will have Allie and Mocha to bred to Chex also. Your mare should join the ranks!
March 8th, 2012
The week has brought several rides so far with more to come. I have been working our horse Kyra and getting her some more ground work. As well I have also been working with Mickey. She is amazing, we rode through town and she was not bothered by anything. And then I decided to take a jumping clinic, what that means.... RIDING ENGLISH!!! YES, me whom has not done that in years. I have been riding Jigalow and can't wait to see how we do! We are working on consistence gaits, and holding the rhythm through the ground poles, and straight lines.
I had a question come up last week, and I thought I would write this short FOOD for THOUGHT: When you go out and your horse walks away or maybe when you ride they are not acting like they normally do, think maybe they are not feeling well, are they current on shots, wormer? Have you had your horses teeth floated? How is the farrier doing with your horse's feet? Just like with people horses when their bodies hurt they will not feel well or perform well. That means all the things to keep your horse healthy matters. Does your hay provide quality of nutrients? Do they need a supplement? Another thing to consider if you are riding when the horse has not gotten to eat they may have attitude cause horses are use to eating all the time so in the winter when we feed in feedings then they may have some attitude that is fine. Horses too like people have the right to have bad days or weeks, we just can't allow them to be mean or ugly. So, make sure you are still the lead horse in your horses world but allow them time to not feel well.
March 10th, 2012
Friday was a great day in Wallowa County, took a trail ride around the slope area with two good friends! Then at 6 went to ride with another we both ride Chex babies and we practice jumping. Then today Jeffrey and I went on trail ride with Midge. We went up Wade Gulch on Mickey, Tigerlilly and Kyra. Then headed to a jumping clinic at 2 watched the session before us and then it was our turn. I was so happy with the Chex babies, and really loved riding one! I am so excited to see how they did! What a dream come true to see these great horses that can do so many things: trails, drill team, moving cattle, parades, western, english, jumping, barrels, roping and more! For young and old! I can't say how great they are and I realize most don't believe me till they have owned one or seen one in action! But, I promise you they are AMAZING! We have donated a breeding to the Enterprise Education Foundation dinner and auction to save the art program so if you are interested in breeding to Chex in 2012 don't miss this chance to make a dream come true horse as well as help out a school program!
March 12, 2012
Well the weather sure reminded us she is in CONTROL! Sunny on Saturday and today wind and snow. Sunday my new 4H club the Rusty spurs braved the weather and came out to Char Williams arena near Joseph and we had 5 juniors on horses... my laugh was about the horses were the OLD ones, they are wise and took care of my kids. The kids all learned to loung horses for respect. Then we did some showmanship, then we did rail work and then I let them have their free time! It was great to see the kids laughing and smiling! I found this on the internet today and it seemed soooo true. Dream big dreams and the funny thing is that against all the odds, those dreams will come true!
March 13, 2012
I have a facebook page for Dun the Right Way Horses and on that page ( Dun the Right Way Horses-Custom Training)came this question from an owner. If you have questions or training concerns you can either email me at dunfoxy@gmail.com or fb message me.
Can you address horses that pin their ears and when you correct them and when you just let it go? For example, my sweet Zoey seems to always have her ears pinned, even when she is just hanging out getting brushed and when she is eating with the other horses that are higher up in the herd rank. I don't know when she is just hanging out or when she is being naughty. Can you help me figure it out?
I would be happy to.... usually naughty ears are close to the body/neck and have more than just pinned ears. And they will learn from the other horses how to act. So if pasture mates are naughty to her she will try it with others and you. S...o, if in question when you have her caught if she acts to be pinning---- move her feet with energy and then go back to letting her stand and bush her. Almost like nothing happened. Doing this several times will make her think every time my ears pin my feet get moved. She will learn, but like with Mickey she puts her ears back alot and she is listening... it is different with each horse. If you feel she is being naughty move her feet. If you are not sure move her feet. It won't hurt her to learn total respect. But at the same time try to read her WHOLE body language and what your body or other horses are telling her!
April 19th, 2012
Sorry it has been so long since I dropped in! It has been a busy month. We have moved horses to feedlot so that hay pasture could come up. We have went on some amazing trail rides with great horses and super friends. We have gotten great rides with the kids. The Rusty Spurs club kids have been busy, they had a trail ride the first weekend of spring break and then spring judging where they all did great. I am so proud of them. We had some ups and downs. Kody seems to be rebounding from his leg injury and is back out in the field, then Kyra got hurt and we are doctoring her. It will be a long road for her, she will not be able to be ridden this year. We are waiting for the foals of 2012 to start coming. I have been riding some training horses as well as working my own as well. Lessons are kicking up, and we ready for the warmer weather to come.
Please send us your questions if you have any in regards to horses, training, ownership or anything.
July 8, 2012
It has been forever since I posted here! Sorry followers! I have been super Busy!
We had 3 super foals this year! One Chex baby a HOT grulla colt, a bay colt out of an outside stallion, and then Jigalow's last foal a Dun Tob Colt. We went with the candy bar names this year so welcome Rolo, Snickers and Twix. Twix has already found a home and a bill of sale is completed and payments made on him! Not sure if we want to sale the other two at all!
13 horses are out to summer pasture on the North Property and they all seem happy! Kodie after a winter injury seems as sound as possible. He runs and plays! Hitch our yearling is growing up big and strong and is getting DARK!
I went for a ride on Midnight my ol black mare I raised and took to college, she was GREAT! We rode my grandpa's place on Memorial Day Weekend and to see Dez and Jalyn lope across feilds I use to run in made me cry from deep inside!
We have confirmed 3 Chex babies coming next year and maybe 4. We have in Foal: Mocha-Chex, Mickey-Chex, and Ali-Chex. All new to Chex babies yet so excited. We also may have a new mare to us in foal to Chex as well. We also have Chex's sister in foal to Tres our new stallion a Bay AQHA Stallion. We have not stood him to the public yet!
I went to Tillamook to Judge to Miss Jr, and Miss Teen Oregon Pageant! WOW what amazing talent Oregon's young ladies have! It was great got to meet Bob Roy custom Saddle maker, and judge along side of him!
Then went to Bend and judged a SUPER mule show! GREAT people and super great stock! Super fun. My hubby was my driver and even helped me clerk one day in the arena!
All this while working the training horses.
UPDATES: Rocky: has been around lots and lots of firecrackers and is a FREAK! HE is learning to relax while other horses are being worked in the round pen and he doens't freak as much! He is on the books to be ridden more this week and the weeks to come!
Apollo: Love this little man, he is coming around great. Driving is getting solid, his mind to love you and want to come to you the draw is super awesome. My kids love him! He is a rock star at crossing water! They both should be going out on the trails this week also being ponied!
Sampson: WOW he is a great long day in the saddle horse. Working on his flex and softness.
Rambo: Headed to the round pen to get his spook worked on!
Bonnie: been seen by Emily a couple times, ready to have her first ride and she where she is. She is cute but boy she has a side of what she wants~ maybe a women thing!
Sold Pixie to a GREAT home in Kalispell MT! She will be a trail horse for her forever home! She is gonna be missed and yet LOVED!
WE laid to rest our mini red heeler on 7/7/12: I ran her over with my truck and she was just not big enough to make it through it all. It was a terrible day in our ranch!
GREAT NEWS: new training horse came with his own little girl for 3 weeks, I get to work with them both! We welcomed Moon and his 16 yr girl! She will get to work him along with help me work other horses! I am excited we have a new daughter! She is pretty darn special to us already! Her mom had a hard time driving away today but we thanks her too Kate I promise to love her and trake care of her!
I think that fills you in for the most part! Sorry it will not be so long before my next post! Gob Bless and Amen~!

July 9th, 2012
Today started out with chores, signing record books for one of my kids in the 4H club, then off caring for someone else horses we are caring for, then home to work with training horses and give lessons. We rode the pony today, I was sooo proud of my son for making the first ride on him. He has such talent and yet doesn't like to ride that much. Dez had a friend over and then went out and caught Sugar by themselves and then they saddled her up and went to the arena aloneand rode for over an hour. I was so proud of my little girl today too! She is a cowgirl in the making! Our young lady from Idaho that is here to learn she rocked today, in the round pen with horses. She also got really sun burnt. The training horses are coming along GREAT! I love my job!
January 14, 2013
WOW so very sorry it has been so long since I have gotten on and BLOG'd for you that follow. We have over 200 followers on our facebook page and I stop in there several times a day and answer questions and comments and make new posts.
2013 is bringing NEW great things. I am pleased to announce we will have an intern this summer Sarah a 14 yr old girl that will bring along with her a 2 yr old dun gelding and her 4H mount. They will be training side by side with me and learning the ropes as a trainer and helping on sacking out and first rides. I am so excited. She will have her own page on the site and you can see her blog or share with your young people.
Sept 13, 14 and 15th is the women's retreat dates. We are booking up fast for clinics. I am FULL for judging in 2013 I will be Columbia County Oregon in July, Skamania County Washington in August and Walla Walla County Washington in August as well.
I will still be working with the Rusty Spurs 4H club and welcomed 2 new junior members.
We are expecting 5 foals in 2013 but looking we may have 2 that vets said were not bred they look bred to me. We are offering 3 mares up for sale and can be bred back to Chex for 2014 foals. They are open now.
We have 2 great Chex foals for sale both geldings one a smutty dun and a palomino. We have the color and conformation and the pedigree and the history to prove you a great horse! We also have a few other great horses for sale at this time if you are looking for the been there done that gelding we have him.
We will be offering lessons and trail rides again in 2014 and hope to get to meet you and your family this summer.
If you have questions about horses or riding please let me know. I would be happy to help you.
What would you like to see blogged about on this page?
We have welcomed a new horse to our herd Rex is a 13 year old Palomino gelding Jalyn will be riding him in 4h this year.
We have placed out beloved Magic in a new home with young girls down the road from us.
January 25th~
Been super busy booking clinics for this spring and we have now set a date for a youth camp... parents welcome to come and listen and learn from the side lines but all about the kids and their horses! June 28, 29 and 30th here at the ranch. Limited to 10 rides and horses! Bring your cmap trailer, horse trailer and plan to stay or parents you can get a nice motel or vacation rental from Wallowa Lake Vacation rentals and the kids will be here enjoying other great youth!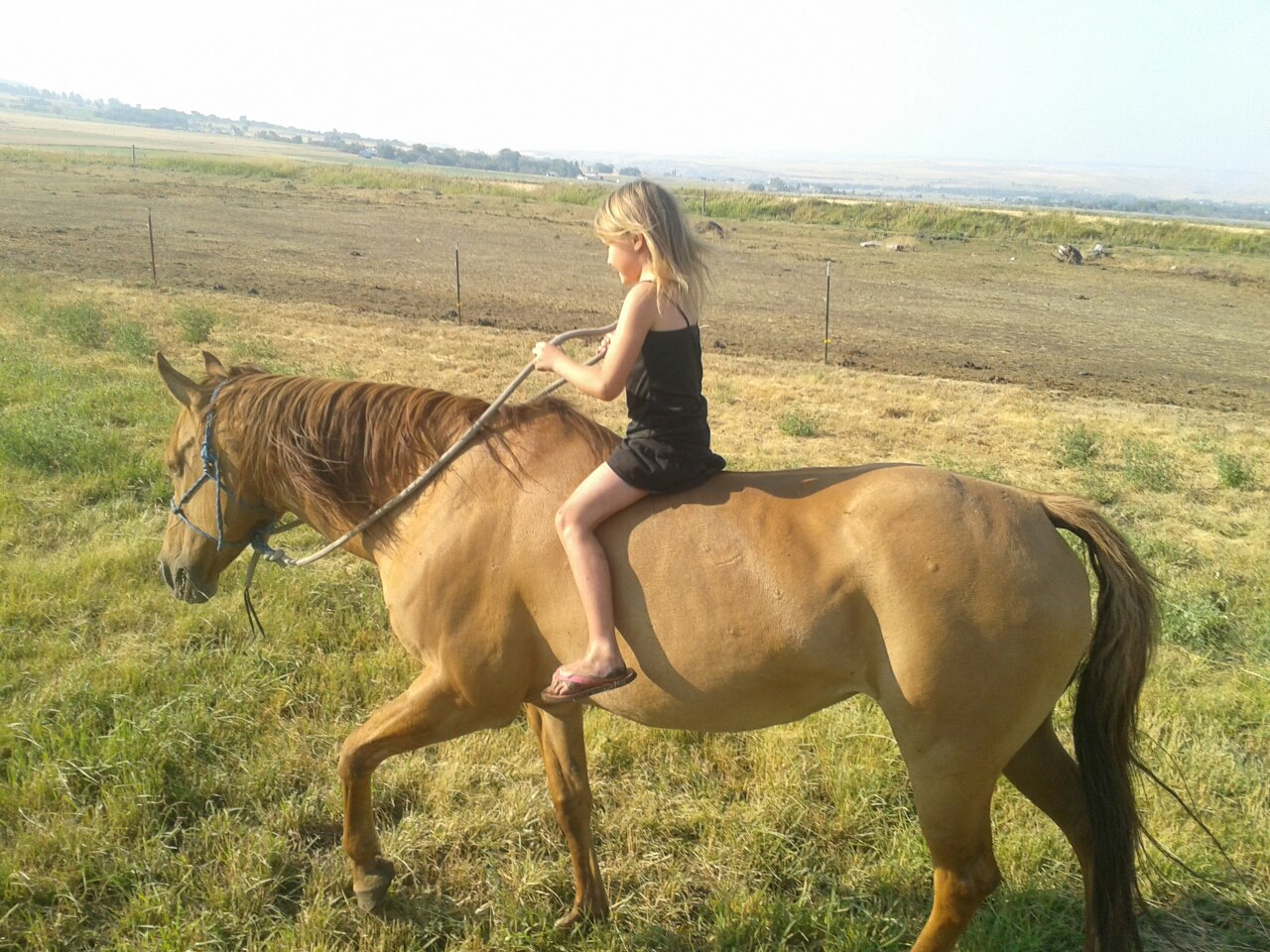 Clinic in norhtern Idaho near Hayden, Rathdrum, Athol Idaho limited to 10 riders for the weekend March 15, 16 and 17th Cost is only $175 and stalls are avaiable! Book NOW to save your spot!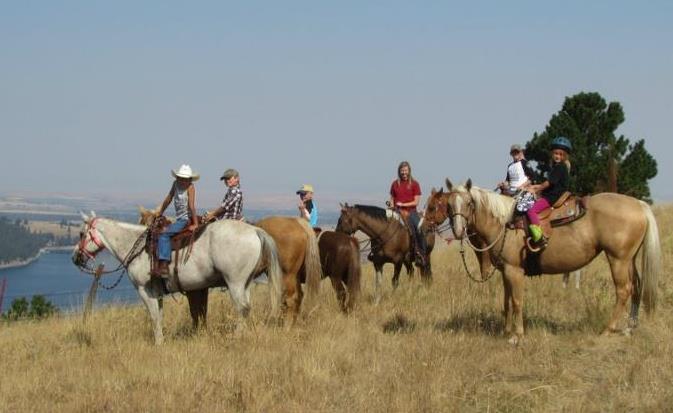 I have another blog page fo you all to follow https://plus.google.com/u/0/105152545233706630815/posts hope you will stop in or maybe check out my ranch Facebook page at https://www.facebook.com/pages/Dun-the-Right-Way-Horses-Custom-Horse-Training/193888443987930
We are still running the "BUY EARLY " foal special for $1,000 paif prior to foaling you can own a Chex baby! We have one filly spoke for. We should have 5 foals coming this year!
Still a few breeding spots open to breed your mare to Chex in 2013 for your own foal. Book by 2-14 and save $200 off breeding fee.
January 30th, 2013
The first month of the new year almost gone! SET your GOALS! Have you set your goals for you and your horse this year? I reccomend you do it! I think you will get more out of your year. My goals include getting my new Chex baby going so I have her to replace my Carolyn. I will be starting Babydoll, and he is named after a ranch mare I use to ride as a kid and was one of my 4h horses. I have set the goal to ride every weekend and I am holding that up unless I am out of town, I will make sure I ride a horse even if it means bareback around the field! I have many goals but I want to know what yours goals are... email me them, if you need support help I am here for you. dunfoxy@gmail.com or maybe you can check us out on FB Dun the Right Way Horses~ Custom Training and chat with me there. I love to help others.
The women's retreat is becoming the HOT topic for many... make sure you don't miss the chance to take part in a fun event with friends new and old and with your horses. It will make you smile and know you need to put you and your horse more important more often!!!
I wanted to let you know we are working on some new great things with Dun the Right Way Horses and we are so excited. We will be able to fill you in shortly!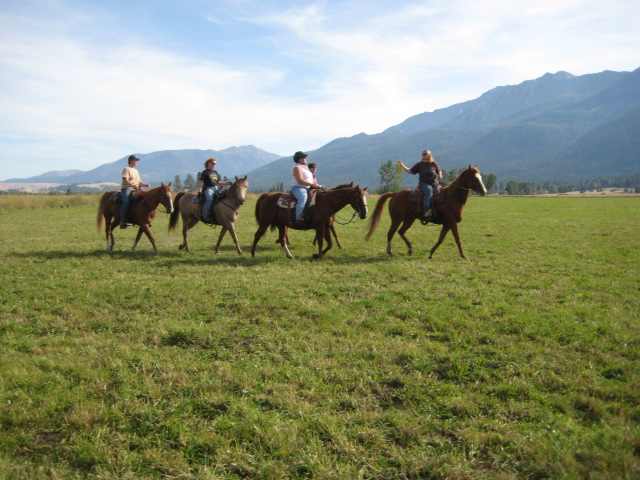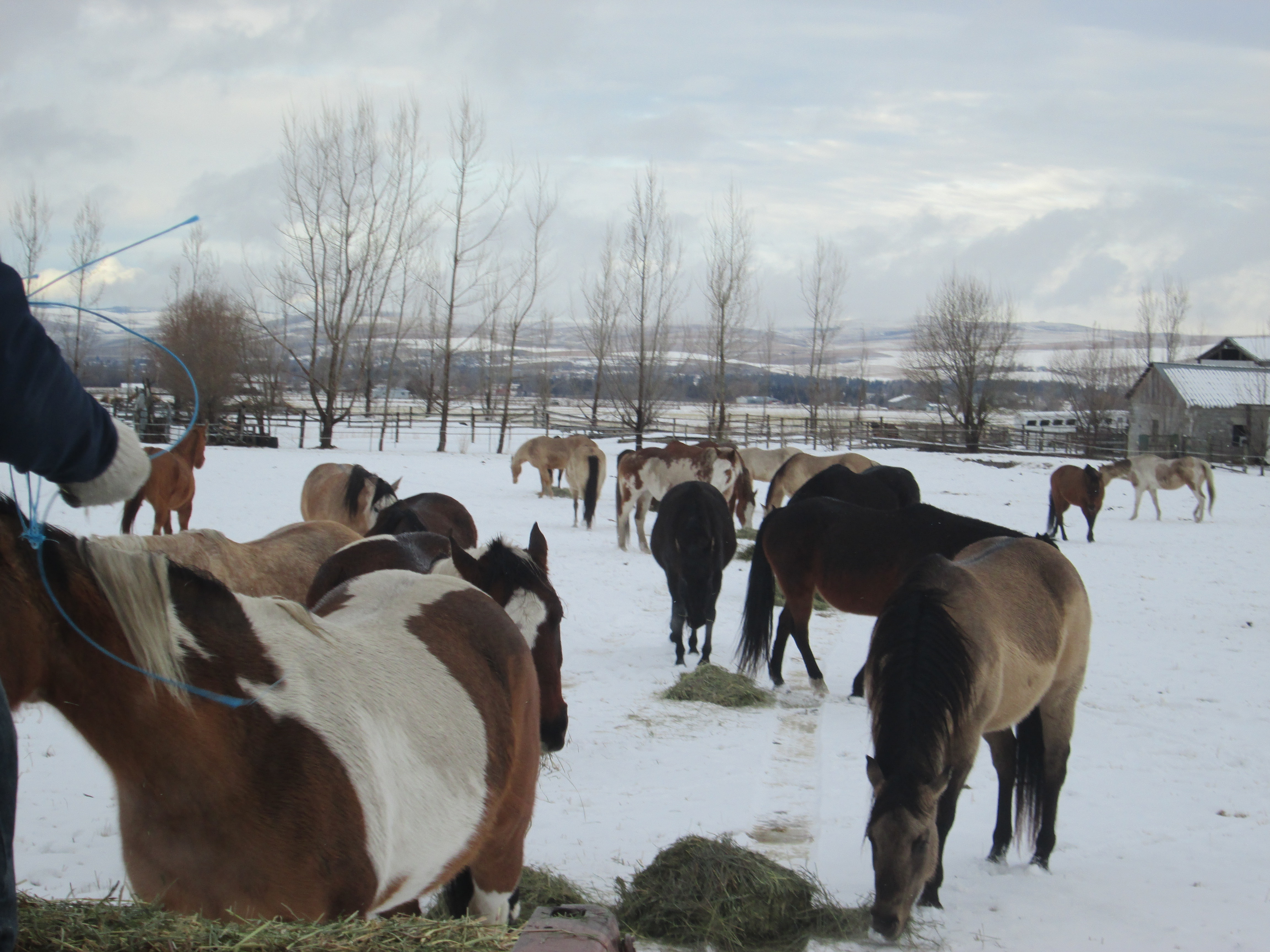 Feb. 14, 2013
It has been a busy time. I went Walla Walla, WA last weekend and took lessons with Andy Shafer I rode Rex it was GREAT! I loved the lessons I learned and it helped me get out of my rut I had fallen into. I love learning. Celeste rode Nala and they did great! Midge was riding Lady and had a great workout as well. This week I got to spend alot of time in the gym, with the horses and getting all the women's retreat stuff sent out and Boot Camp flyers ready!
We had snow last Friday so we took some great photos of the herd! Some good ones for advertising! So glad I have super friends that can take great photos.
Feb. 17, 2013
What an action packed weekend! We drove Friday to Hermiston picked up a dog from above Seattle to breed to Hooey- super smart friendly red heeler. She is fun and with the two of them they should have a super litter of family friendly working dogs!
Then we picked up are new blue roan AQHA mare. She is King Fritz bred, and as stout as stout! She is very smart and willing. We love her!
We also went and rode a horse for a client and brought it home, small world I found them the appy they were wanting on craigslist as they emailed on her she belonged to a client I had trained a gelding for this last later fall. They have ridden her and Monday have a lesson with her. Lets hope she is the match they need.
Saturday we went back to Hermiston to take in the sale and watch the entertainment! We met with a client about training and met a super lady from the Prinville area. She was gonna sell a horse there but got her sold prior to the sale. She was looking at buying a horse. Saturday prices were terrible cheap great for buyers bad for sellers, Sunday we heard they were better.
Sunday-Today we spent cleaning toughs, trimming feet, fed horses and got a pen ready for the new bummer lambs. Hauled Midge's trailer home for her. We will ride tomorrow. I have lessons and a ride to do! Busy day tomorrow.
We have set dates for a clinic with Andy Shafer Preformance trainer for reining and reined cow horses June 15-16 open to 14 riders will be split for two sessions 3 hours each day. email if you are interested in taking part. dunfoxy@gmail.com
Cassi Soule will be here April 11th to the 13th and she will be doing private lessons in general, english, dressage or jumping. $60 for adults, $50 for youth. Let me know if you want a time slot.
Trail clinic at the Ranch taught by Vixen May 18-19th one day for adults and one day with youth. Cost is $75 for a 4 hour session. limited spots open.
Women's retreat is still got some openings you want to attend please let me know! Remember spots are limited!
February 26th, 2013
We welcomed home another new addition to the ranch. An APHA gelding named Dakota. He is a big boy that has had his feet sucked down and his heels brought in. We have pulled his shoes trimmed excess heel off and he is out in the field. We will give him a couple weeks and on March 8 or 9th Emily will be here to work on him. We will hope he will be able to find his soundness and be the amazing rope, team penning ranch horse he was! He is a lover! And seems to enjoy the sunshine of eastern Oregon. Can't wait to see what he is like when he is feeling good.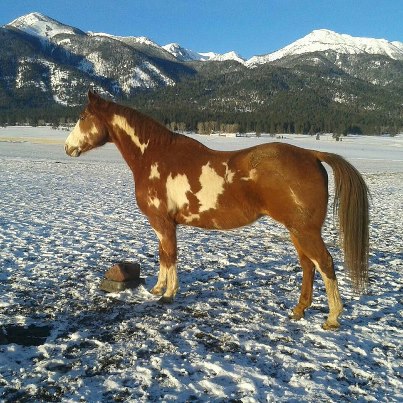 Hooey had his first girlfriend and we learned more about dog breeding. We are excite that Hooey will soon be the dad to some puppies. She is a beautiful red heeler from above Seattle and she was a gem to have around super smart and willing. Reece our mini red heeler was a bit nose out of joint but it all went well. Reece seen below having some fun in the snow!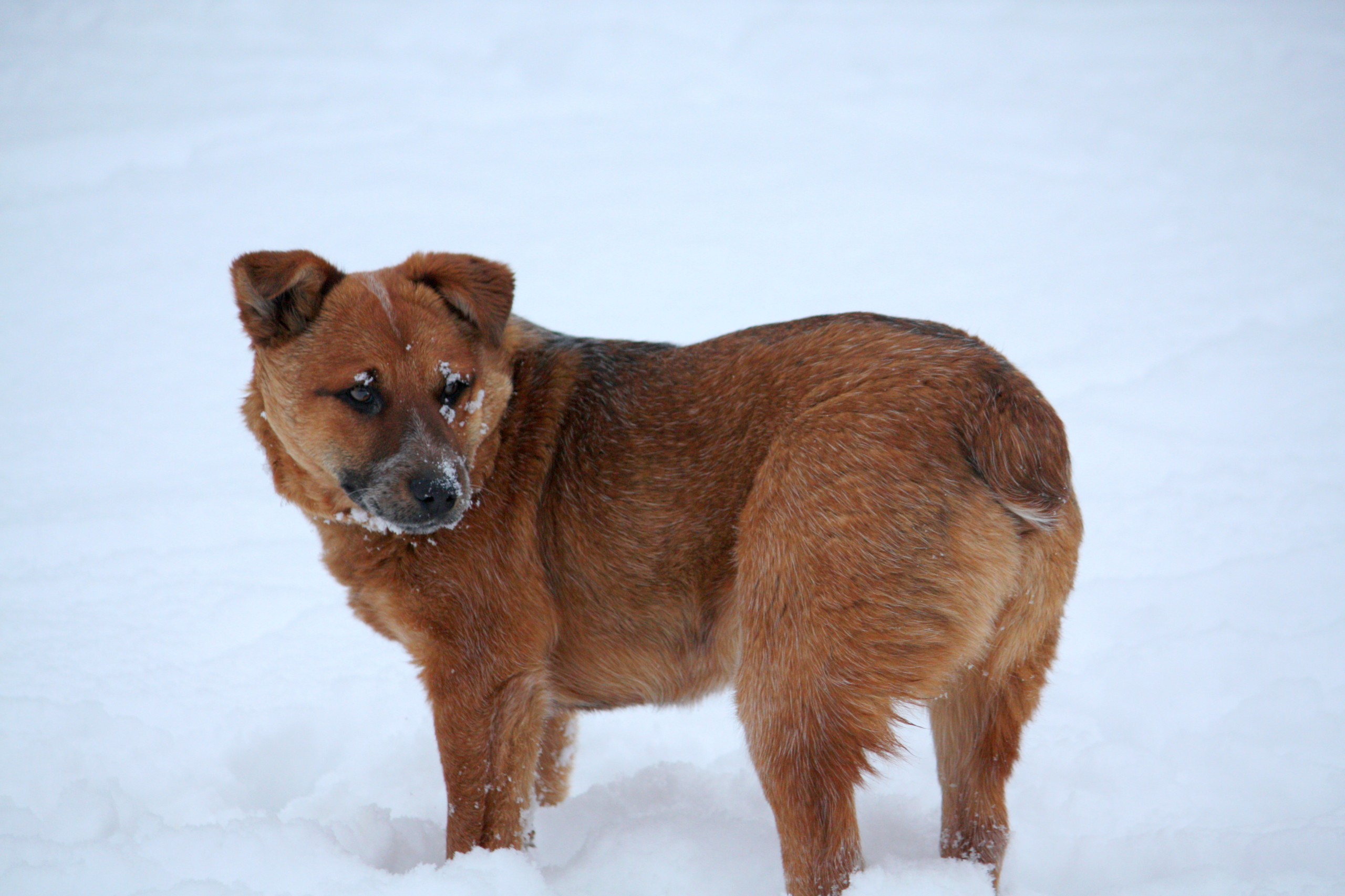 the sunshine and Ember the day she went home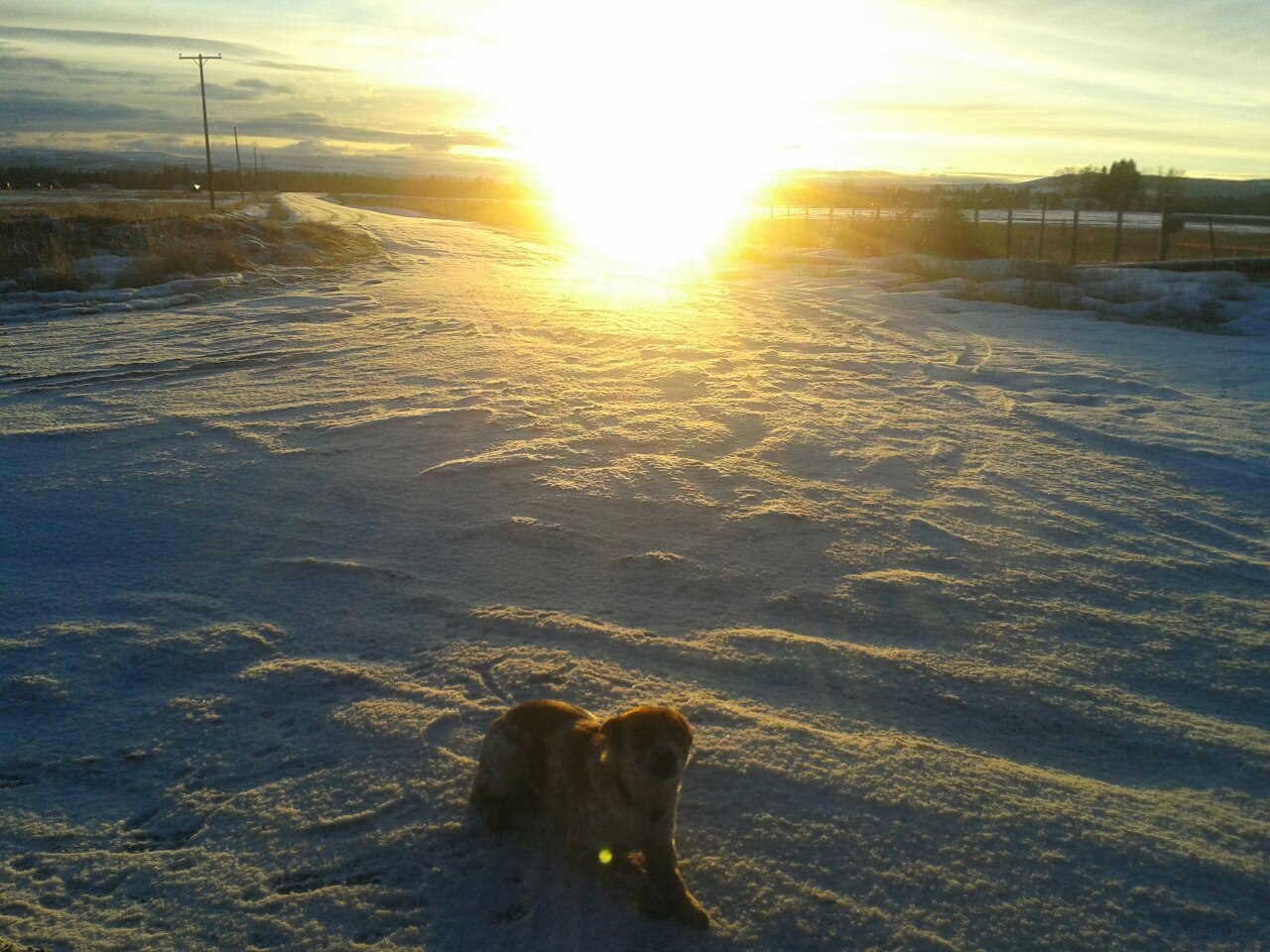 We also welcomed two new additions to our home NOT that the 30 plus horses 9 cats and 4 dogs were enough we have a theme this year of Auto names... Meet "Mini" and Cooper" bummer lambs! YEAH guess I will be reaady for foaling season early!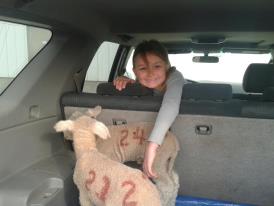 Feb. 28, 2013
The end of Month 2 of 2013
I have lived my life in the horse world... I have worked hard to be well known for what I do.. I have not won any WORLD titles, I have NOT won big shinny buckles in a long time, or bronzes/title, I don't have my own tv show, and most probably don't know me by name! BUT I have... I HAVE helped young people reach their goals, I have helped aged people have their dream horses, dreams reached, I have trained some GREAT horses for all levels. I have raised some great horses that have gone out and DONE truly amazing things in roping, barrels, youth (4H), reining, and all other things. Tonight I will realize once again my happiness in the horse industry does NOT come from my wins but when I can help others feel Happiness! My life is complete! I am very happy with the things I have DONE in my LIFE and will continue to do in my life!

I was given this great gift last fall after county fair- said " You are the the missing piece of my puzzle" and it was a puzzle piece. I love it. Seeing others reach their dreams with some help makes me feel alive!
March 16th-
March came in like a lamb so we have been busy riding horses and brushing horses and getting ready for foaling season! We are excited to see what we will have on the ground. We have Chex's sister bred to a Bay AQHA Stallion and then our new Blue Roan mare is bred to Homo Black and White APHA stallion. And then all new bred to Chex's mare- Ally- Bay AQHA, Dee-Red Dun AQHA, Mickey Sorrel- APHA, and Mocha Bay-AQHA. We will have amazing rope, reining and barrel horses and some all around ones as well!
We have a few still for sale Hitch a 2 year old AQHA Palomion Chex Gelding and his full brother 2012 Smutty Dun AQHA Gelding.
I have been busy riding my Chex babies took Kyra jumping. She has recovered from her injury and her reining training is making jumping a challenge but we are enjoying it both of us. I was able to get on Kody again after over a full year off since he broke a hind leg last winter. He was ALOT of horse today but still ponied Babydoll off him and had a good ride with her.
Tomorrow brings lessons and riding more! I have been riding about 3 a day and they are all mine and that is a GREAT feeling!
April 5, 2013
Today I learned people actually ready the blog. I had wondered if anyone ever check this out. So I will make ure I update it more and make sure that I let people know what is happening on the ranch.
I do update daily the facebook page https://www.facebook.com/pages/Dun-the-Right-Way-Horses-Custom-Horse-Training/193888443987930
I wanted to let you all know I am always here to contact via email.... dunfoxy@gmail.com If you have questions about training, clothing or anything. I am here to help you out.
I thought we might post a few things for you to know what has been happening. This week we had the Enterprise Ag classes come out and judge horses. We put together a class of broodmares (poor girls fat and ready to pop) and then QH type mares since we had Sassy in the class- she has some spots and is an APHA! But we used Holly, Nala, Krya and Sassy and one day traded Nala out for Babydoll. The classes were interesting and so proud of our stock who stood tied and so good.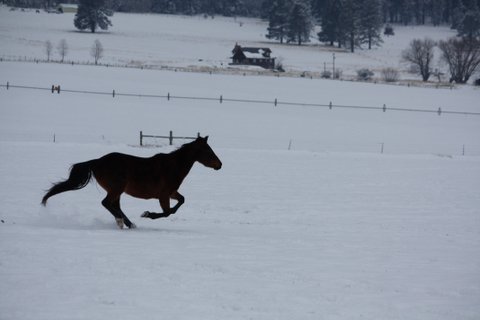 This is prego Ali running and keeping herself in shape! Helped her place in the top of the class!
A couple weeks ago we took Possi our last Jigalow baby on our ranch to meet her new owner, a senior in High school in Washington and she wants he to be her all around horse and rope horse. We had sat on Possi in the round pen back in Sept, and in Oct. we rode her ponied in arena once and since then she has sat in the field and been a horse, this young lady had stated to me she wanted to ride her in her senior ride in WSET Washington Equine team and I thought well she is not really been ridden. PLESAE see below the photos posted on the young ladies Facebook page... you will see that she will most likely be riding her tomorrow in the ride!!!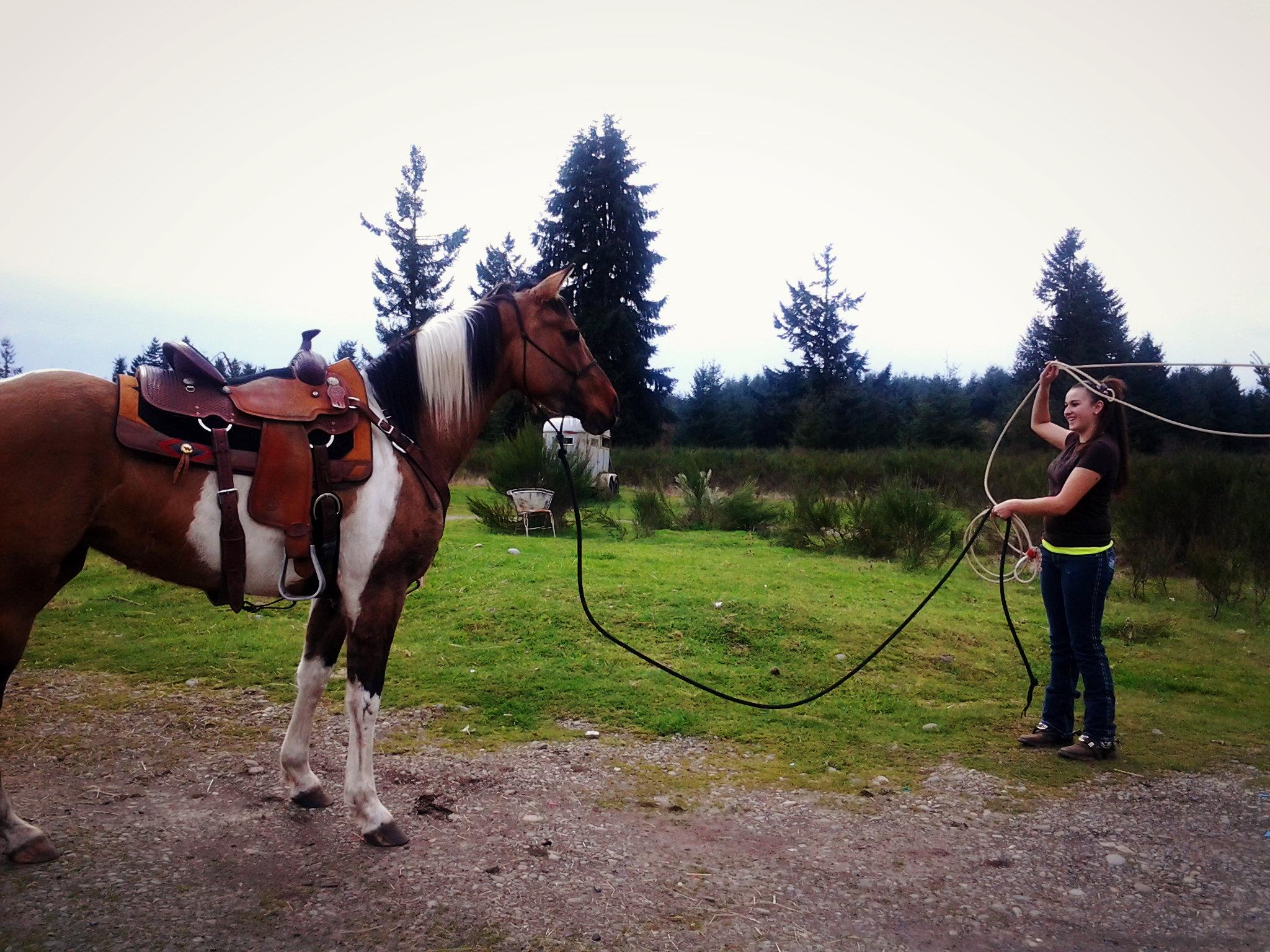 Possi in a rope lesson....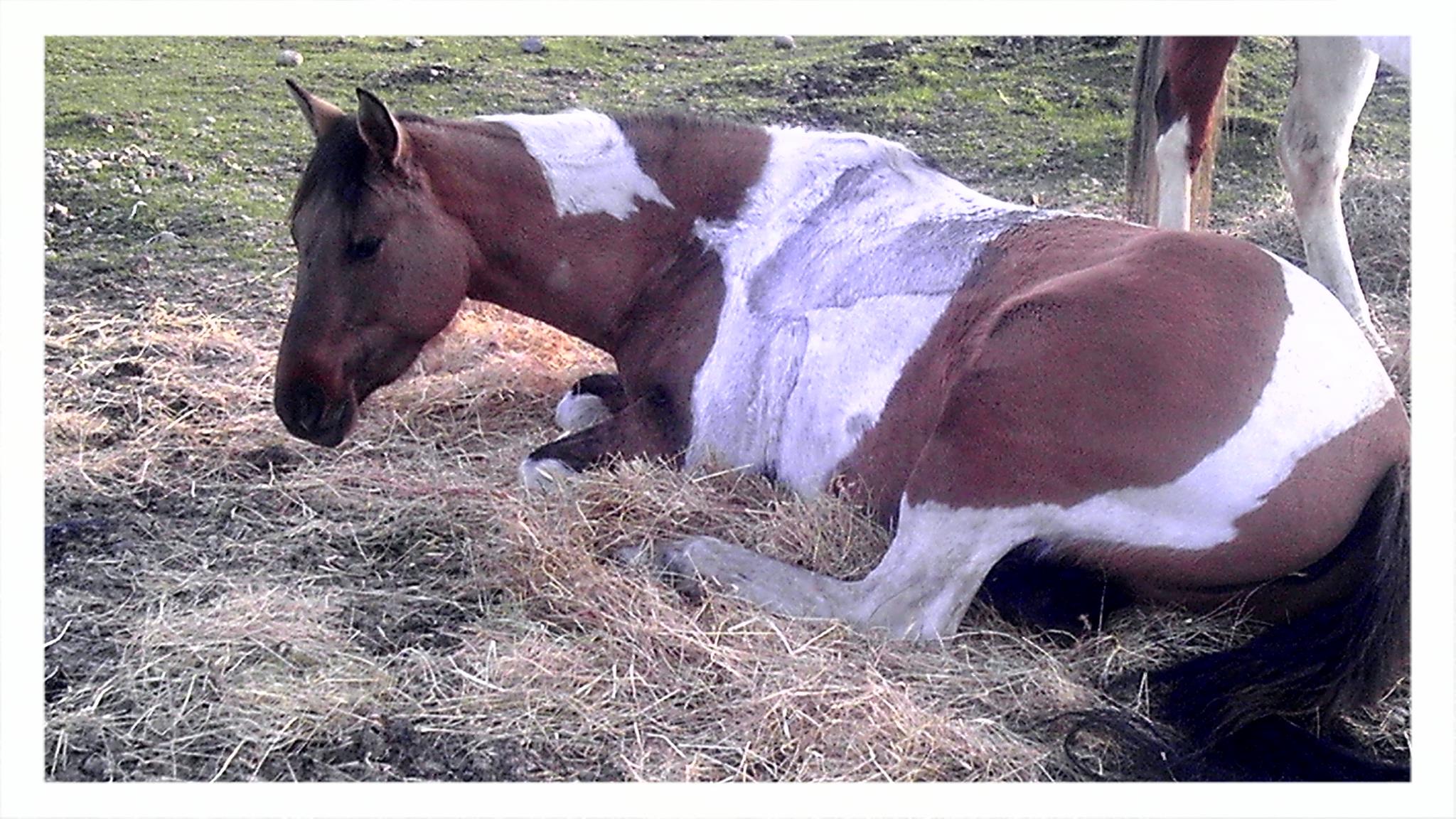 Possi resting after a work out!
Possi getting her first rides....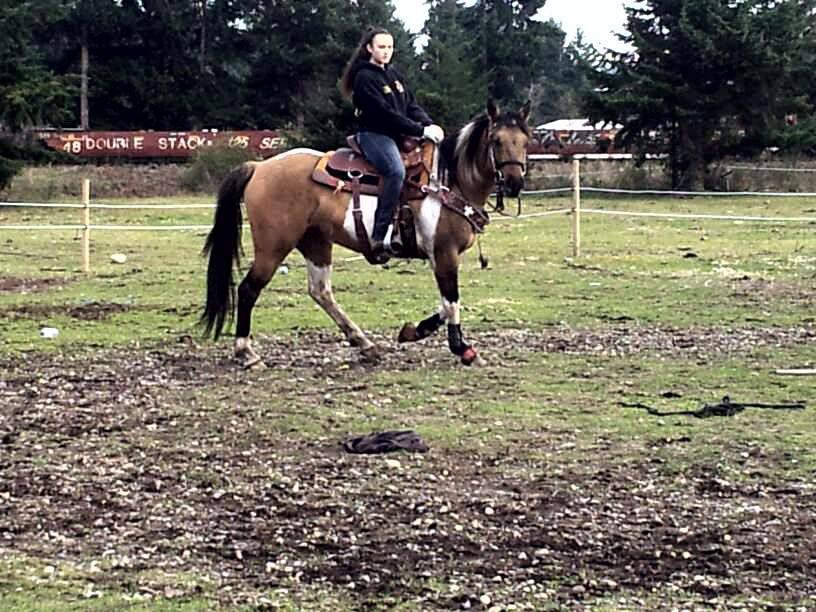 Getting her MOVE on....
Tomorrow I will post from GREAT photos of some great times of Chex babies... and be ready for our 2013 foals. We will be doing a 48 hour special on foals that hit the ground you can put $500 down you will be able to get them for a great price of $1500 at weaning!
April 17th, 2013
What a great month. We had Cassi Soule come and last week and weekend. She gave lessons and did a clinic in dressage and jumping. She brought 3 warmbloods. They were amazing and TALL... 17.2 was the shortest!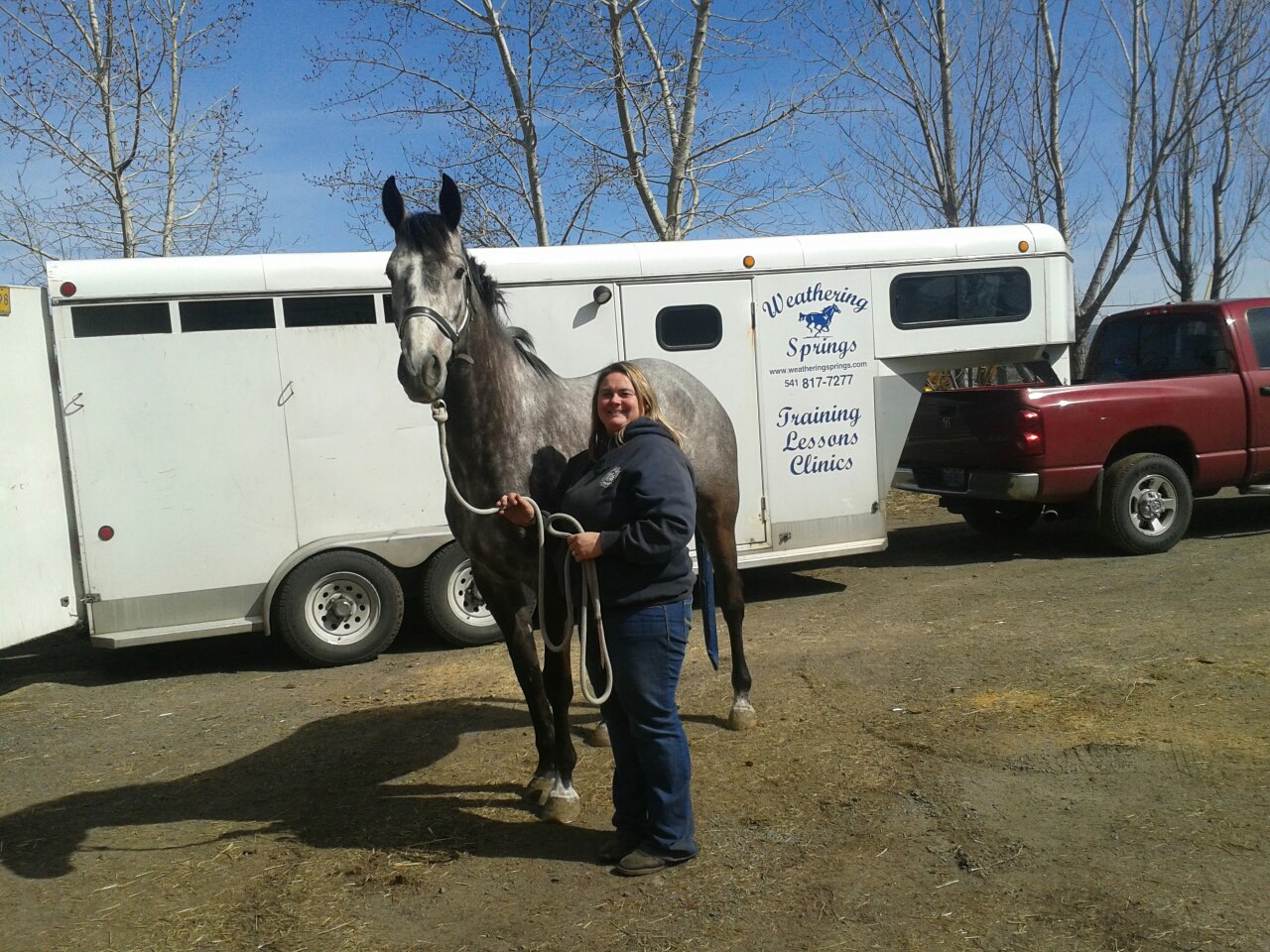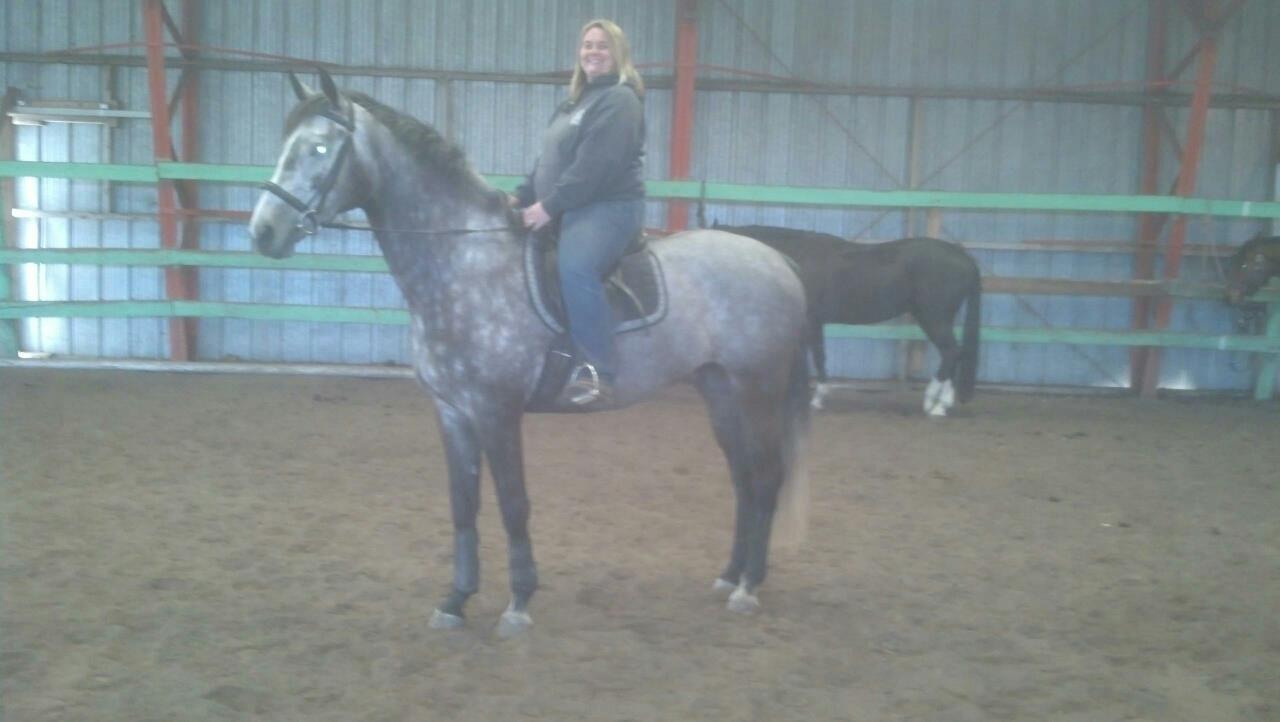 This is Doc he is 17.3 hands 5 year old gelding. I got to ride him and we got to really know eachother. I really enjoyed them all.
Still getting updates on Possi, she is doing great things with her young highschool owner. She has her giving to the bridle and walk, trot and lope. She has hauled her to one event. She is now working on her getting use to ropes. I can't wait to see what their future brings. I love it when our horses go to GREAT homes that love them and get all they can out of their horses. I got to see 3 Chex babies Jump this week with Cassi and then jump again on Sunday for the Wallowa County 4h kids. Nala, Jigalow both owned by the ranch and then Lady one we raised and sold to Midge of Starbuck Ranch in Joseph.
We also welcomed in a new training horse named Blaze he is from Washington. He came from a gentleman that bought him for Kate of Krazy K Appys.She sent 2 horses last summer to us. We thank her for her support and her kudos on our training that she shared information that Blaze's owner could find us and know we could help him with his young horse. Blaze is 3.5 years old.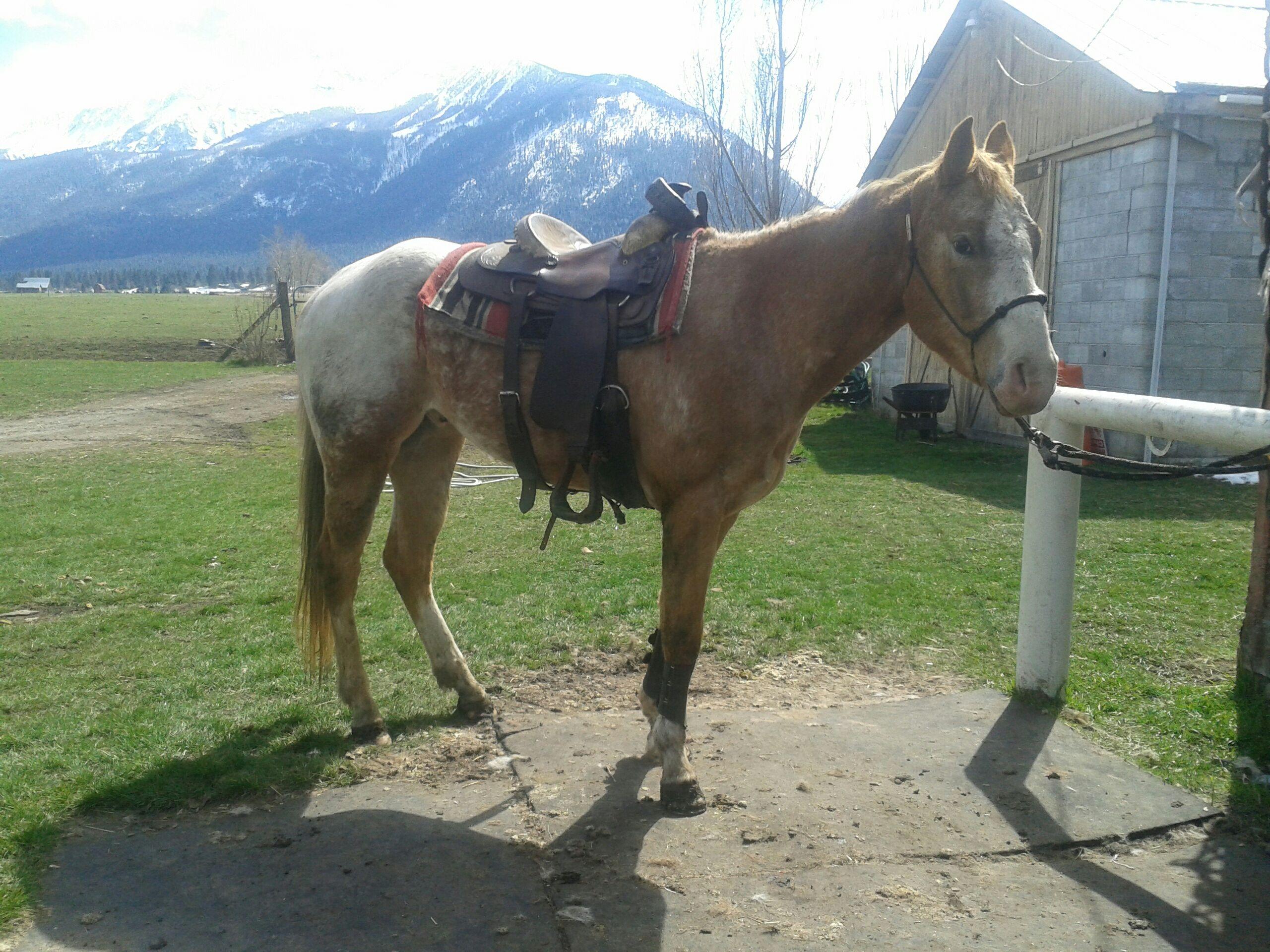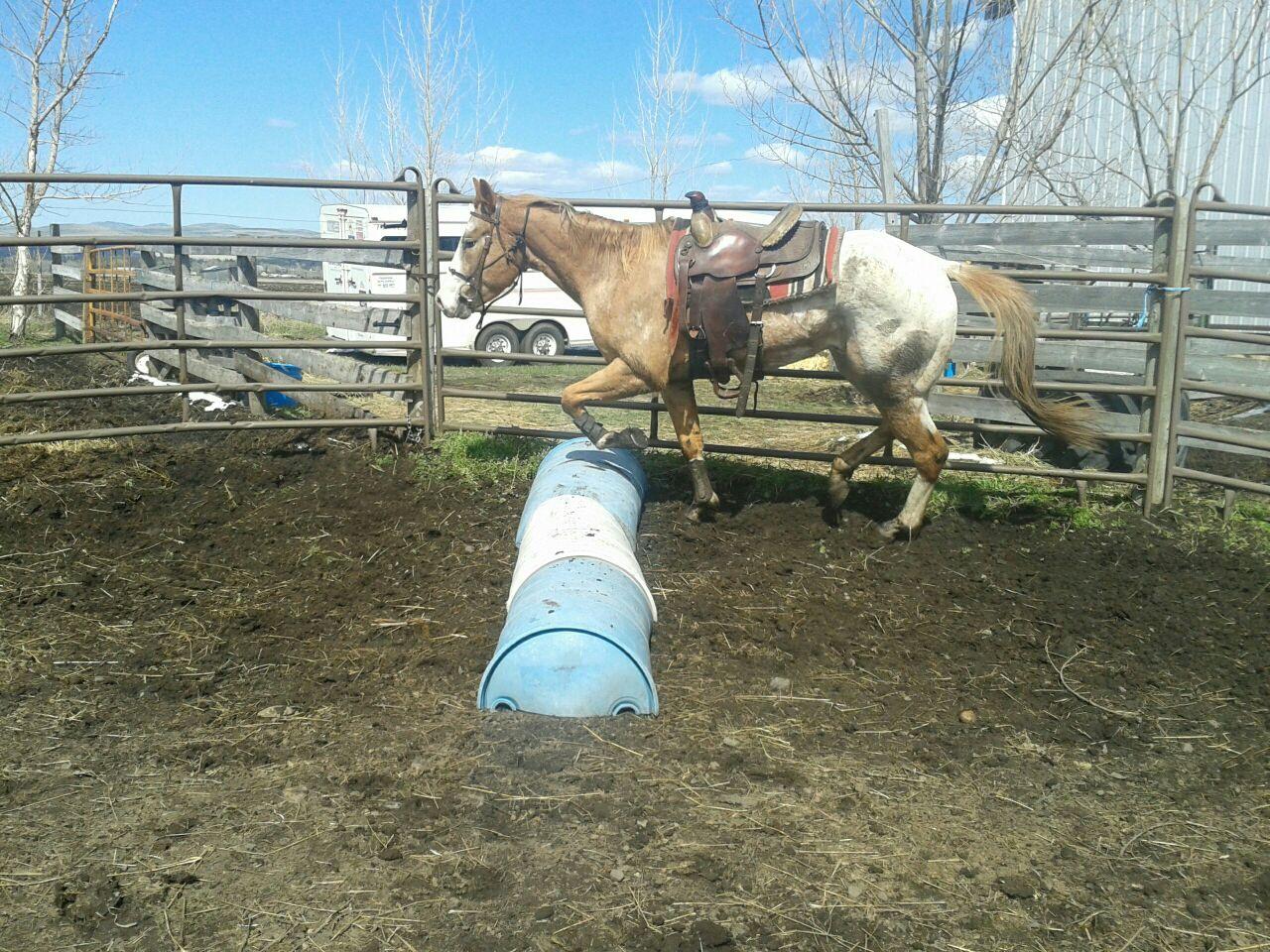 Blaze thought things in the round pen was SO WRONG!!!! But he soon learned I was gonna make him go over the barrels and the pole! He hates the tree of knowledge. He hates being tied!
We gelded Rolo Tuesday and have Chevy in now, she is pretty bagged up. I need to get the new mares on our website. I need more me! WE have some great mares added to the ranch. We have new geldings. I think it is time to get them all their own page. I will see what I can do about that.
I will be leaving Apri 30th till May 10th for the Great American Horse Drive http://www.youtube.com/watch?v=6UeakNxUYVU
and you can see what I will be doing! I am so excited... tomorrow I will be riding somewhere I rode when I was a kid and I am so excited to get to ride again!!! Happy Trails all.I hope you are getting legged up so you can ride with us. We have extended the deadline for the Women's retreat to June 15th since I was gonna be playing. And we can take credit cards if you want to pay with a credit card and attend the women's retreat.
May 15th 2013
Sorry gang been gone so long.... I had a GREAT birthday on April 19th~ I got to take a super ride om April 18th with a GREAT friend on some land I had not ridden since I was a kid with my mom. So I loved that. I got to ride a super Chex baby. And then from the 19th to the 29th things were crazy getting ready to leave on the trip and breeding mares, waiting for mares to foal, riding training horses, and getting a new person that is riding a Chex baby use to her horse Kyra she is borrowing her for the summer. We took Bailey Dutcher who owns a Chex baby, she was getting ready for CJD rodeo queen tryouts and so we took Kody and Dakota out and showed her how to run hard and fast. On Sunday the 21st Jalyn had a Gaming clinic where he rode Rex they are a super team. Had some lessons to give during that time and even got a ride in with the 40 Something Cowgirl group of Wallowa County called the WOW- women of wonder... and took Blaze and rode with them at the rodeo grounds in Joseph. Good times. We hauled some horses out north to summer pasture.
While I was gone Jeffrey foaled some mares out, ok move than half. We have super foals on the ground in 2013 and they are all for sale! See the for sale page....
We brought in another horse on Sunday the 12th for training a black mare and she doesn't like boot camp. Blaze training horse from WA, hates boot camp he is 3 and learning that there is alot of things out there that some horses have to do, like go to brandings, cross ditches, move cows and then get up the next morning and do it all again!
For Mother's day I had the joy of my kids moving cows with me and seeing them ride off alone on safe sane horses made my whole day!
So how many of you want to know about the "HORSE Drive"? It was GREAT~ AMESOME~ AMAZING and loved it, so much fun and horse time. We got there on Wednesday and they had already gotten horses out, there was mine a big black draft mare, I called her baby, they didn't have a name for her. She was tight in her shoulders and I worked on that for her. She was super wide and I was worried she wouldn't be fast. Lord coudl that mare LONG TROT! The first day riding on Thursday you get on get a talking to about horsemanship and how to drive horses and then they take off with you at a lope trot or lope. It was crazy.
WOW I just seen it has been a LONG time since I wrote on the BLOG, we have been busy... we have our website along with a facebook page for the Ranch https://www.facebook.com/Dun-the-Right-Way-Horses-Custom-Horse-Training-193888443987930/ as well we also have a page for Foals by Chex... https://www.facebook.com/groups/313265835523905/ and so we keep those updated and informed. We spent 2015 traveling with Destiny our 11 year old daughter as she traveled over 15,000 miles representing the state of Oregon as Jr Miss Rodeo Oregon 2015 and she and her AQHA red Dun mare Music did a great job. We didn't even get to ride much we took a few rides out and already have several booked for 2016. We are excited about the future of the Ranch. In 2014 we made all our pens changed over from hot wire to panels and then in 2015 we started a water project of toughs and power to each pen for winter boarding. We also added a new sign as well as running horses to the arch way and our brand. In 2015 we got our brand done and branded our first foal crop and some of our big horses. It was a dream come true for me.
Feb. 21, 2016.... I need to hire someone to keep this page current don't I!!!!!
So sorry I have not been on here in a long time. Between kids and work and the ranch... we have been going alot of ways. We have been planning alot of things for the 2016 year
Youth Hormanship Clinic April 20-May 1 with some great co cliinicians.
Becoming Royal Queen/Rodeo Pageant clinic May 21-22 for young ladies that want to become rodeo queens or be on a court. Helps them get ready. With Nicole Schrock (Miss NPRA 2010, Miss Rodeo Oregon 2013 and Second Runner up at Miss Rodeo America)
July 9-10 Reining clinic with Andy Shafer at the ranch this will be our 3rd time to have Andy at the ranch.
August 26-27-28 Women's retreat with some great co clinicians...
then in September I am having a Friends weekeng that is going to be a rush!!!!!
We are excited we will breeding Snickers to some daughters of Chex this year. That should be fun, then we have a bunch of our own mares breeding to Chex some GREAT mares! So excited. We have only one filly left to sale of our 2015 foal crop.
We are making BIG plans for this year and for the years to come!