Sonny's Bar Chex's sire was a buttermilk dun who sired many colored foals. Chex has proven that he too can produce color.
You might wonder what color you will get if your mare is bred Chex. Roll the dice and let's see what you get!
Below you will see foals out of Bays, Sorrels, Chestnuts and more. The color we have in the field is always a great site. One year we had 3 foals, all 3 were dark duns- one was out of a bay, another out of a sorrel and another out of a red dun. Then another year we had 3 palomino's- one out of a bay and two our of sorrels. These were the same mares that had the duns.
Shades of Palomino---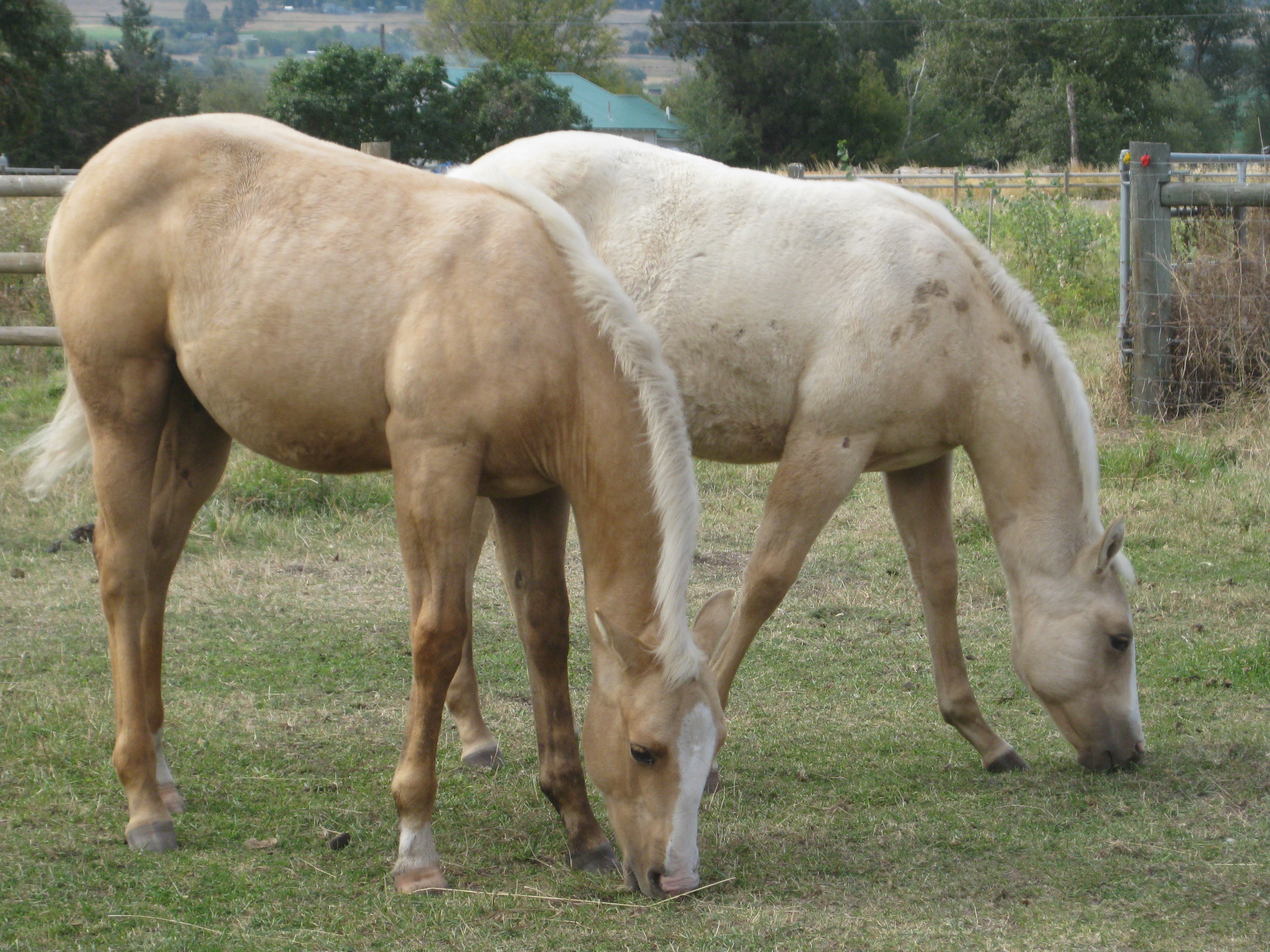 Shades of Dun----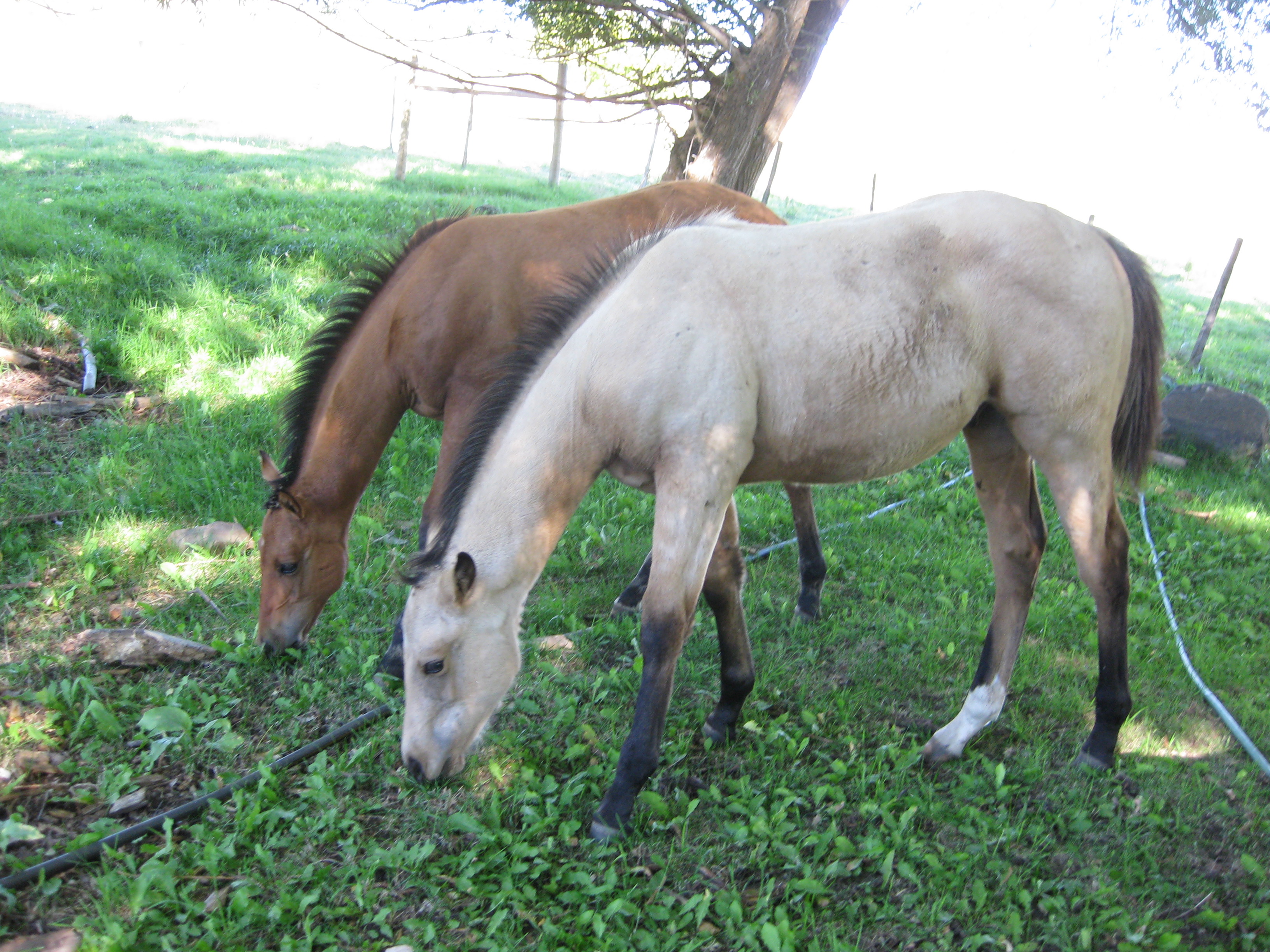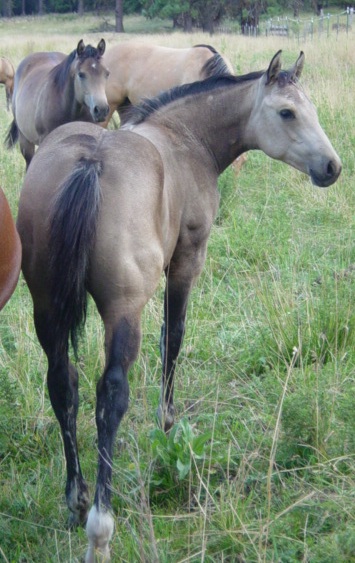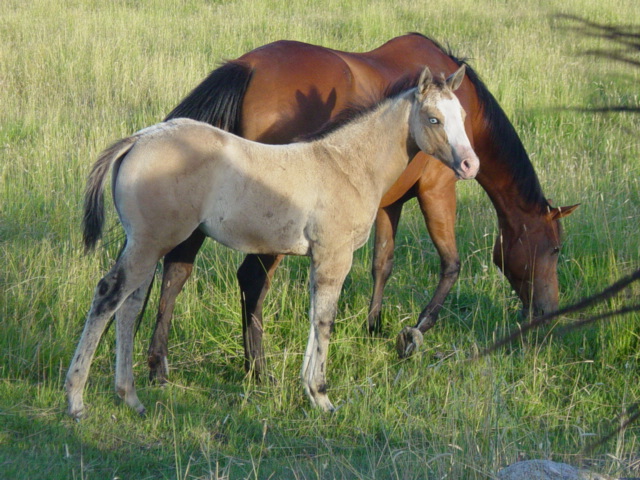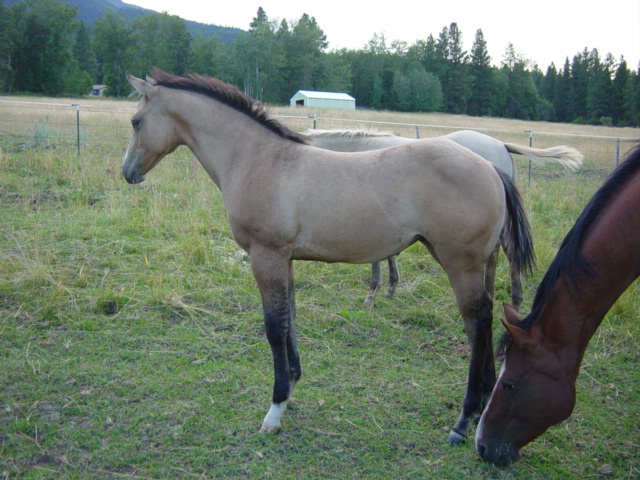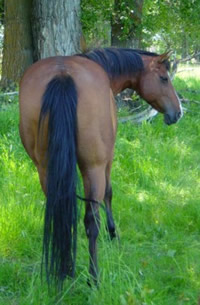 This is what Pepsi, our great bay mare, produced when crossed with Chex. Go Lucky Pepsi #2986404 1991 bay mare; Pepsi is mother to so many greats. Stallion Dun Uncola. See others below: Chexs Go Lady, Chexs StarlitsSurprise, Chexs Dun Dualin to name a few.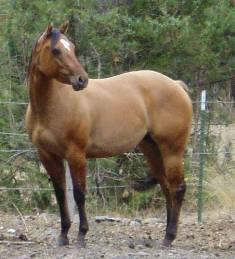 Chexs Go Lady aka Lady. 2002 Dun Mare raised by Dun the Right Way Horses out of our Pepsi mare. Proudly owned & shown by Midge Kliewer of Joseph, Oregon. Midge has used Lady for drill team, western pleasure, cow work, and everyday trail riding.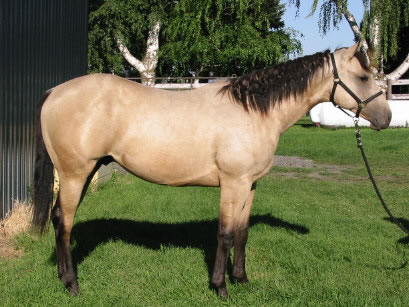 Chexs Dun Dualin aka Dauler. 2001 Buckskin gelding raised by Dun the Right Way Horses out of our Pepsi mare. Proudly owned and ridden by Garry Potts of Lewiston, ID. Dauler is used for trail riding, Special Olympics, ranch work and cattle work. Garry has owned Three Dun the Right Way foals and soon will have another.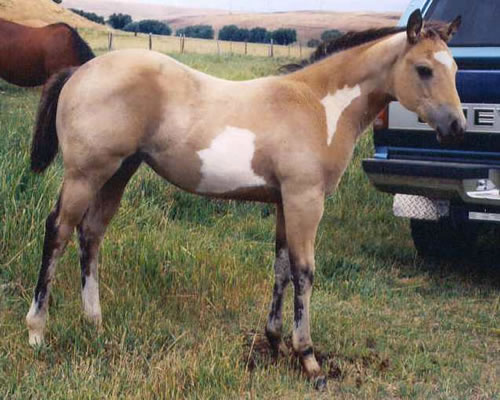 Chexs StarlitsSurprise aka Surprise. 2003 Crop out Buckskin Overo mare raised by Dun the Right Way Horses out of our Pepsi mare. Proudly owned and shown by Colleen Peacock of West Mansfield, OH.
(Photo taken as a weanling)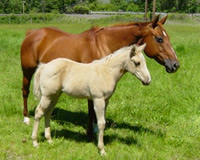 Marybyrls April aka Lena... AQHA # 2665438 a 1987 sorrel mare. Lena is what we called her. She was a mare used for trail rides, lessons, drill team and more. She was a solid minded horse with so much to offer. As a note to the love I have for this mare, I own one of her Chex fillies- Caroline. She is my main riding horse and has the mind of her mother.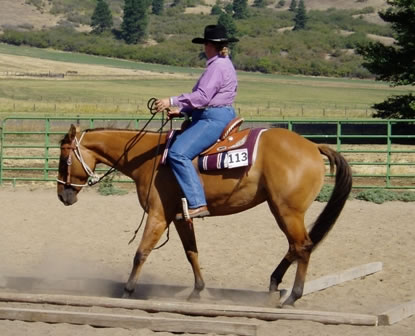 Chexalenasdun aka Lacy. 2001 Dun mare raised by Dun the Right Way Horses out of our Lena mare. Proudly owned and ridden by KB Ranch Quarter Horses in Scio, Oregon. Futurity winner & point earned in Trail & Western Pleasure. Lacy has been used for team penning, trail riding and other fun family things!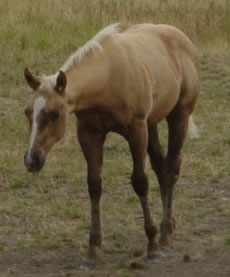 Chexs April Ariel aka Ariel. 2006 AQHA Dark Dapple Palomino filly raised by Dun the Right Way Horses out of our sorrel Lena mare.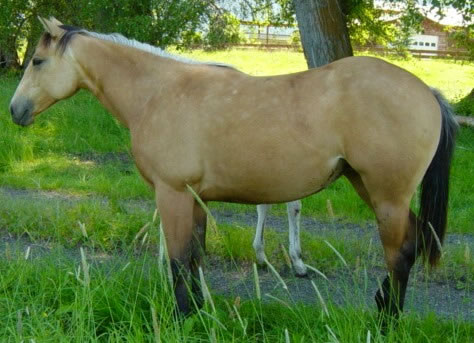 DunAleaninonChexTear aka Caroline. 2005 AQHA Buttermilk Dun Filly raised by Dun the Right Way Horses out of our sorrel Lena mare. We are keeping this great filly for our kids to use in 4-H and around the ranch. She will be an all around mare with great color to show off in parades, and drill team events.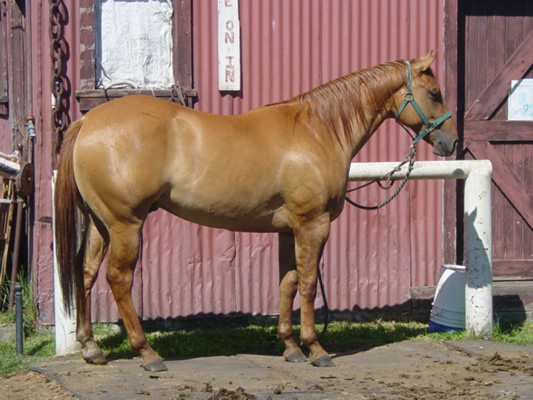 Mister Chex A Lena aka Mister Mister. 2003 AQHA Red Dun gelding raised by Dun the Right Way Horses out of our sorrel Lena mare. Proudly owned, shown, ridden by Mike Gammelgard of Oregon City, Oregon. Mister Mister is a rope, barrel, and trail horse.
Mister has turned out to be a fantastic horse. I rope on him (either end) as well as barrel race. He has won thousands of dollars and awards over the last few years. ... He is an odd fellow, he is a little insecure and it makes him really bond to me. When I'm dismounted on the ground at a roping he wraps his neck around me and just wants to be cuddled like a dog. He has incredible energy, I swear you could lope from here to Montana and he would still be ready to rope all day. He gives 100% at everything he tries, and is the most sensitive horse I have ever had. He responds to leg pressure when I just think about applying it, he really is sensitive. He is a puppy dog on the ground and atheletic as a cat when you put him to work. We are best of buddys.
Give me a call anytime,
Mike Gammelgard
We are going to be offering a new special for a Chex foal raised at the ranch.... You can buy before born~ In Utero Faol.
What does buying an In Utero foal mean?
Buying an In-Utero foal is when someone purchases a foal before it is born, or while in utero.
Pros:
Many times you can obtain a high quality foal for considerably less than you would otherwise.
You don't have the regular costs of breeding your own mare, or the care/costs involved.
Many times you can get a better quality foal.
Cons:
You are not guaranteed color, sex, or conformation
You cannot see the foal before you buy it.

These are our terms:
A Foal In Utero is price is $2200 on all our foals: A deposit of $ 500.00 will hold the foal for you until birth, then another $500 is due when your foal is born the balance is due when the foal is 4 months old and weaned (your choice to make monthly payments or wait and pay the balance when your foal is weaned)... you will receive the APHA or AQHA paperwork when the balance has been paid in full on your foal (you can choose the name) ... Unless other arrangements have been made you are responsible for picking up your foal. If arranged ahead of time delivery may be available for an additional fee.

I have decided this is good to share.. We have a facebook page and we had a question come in about if we consider our mares personalities when we breed and if personalities matter in our program... so I posted this question on the FB page...
Can you all weigh in on something.....a lady asked who is considering a Chex baby....she wanted to know since personality is very important to her and she wants a long term riding partner....so if you've owned, ridden or been around a Chex baby could you please write a comment on your experience with them? Thank you! Your words are better than mine....
Here is the answers I got from different people....
Nicole Winn writes: I can comment on this one, probably not very elegant words, but the truth. I can't speak enough good words about Chex babies from Dun The Right Way Horses. They are beautiful, stout, kind, smart horses.
In the last 7 years I have watched foals mature, watched them go through training, watched them perform in all avenues of life from being a lesson horse, a trail horse, a show ring horse, a best friend horse.
I've been around Chex and he is amazing! I've been around the mares, they too are amazing. I've ridden Chex babies, so willing and smart. Quick to please.
Just this last winter I stood in the middle of a pasture with 30 some mares, foals, yearlings, geldings and a freshly gelded Jigalow (another Chex baby), as they all milled around me! I'm trying to get pictures and all I could get was muzzles and whiskers of one horse or the next.
All summer I have periodically checked up this years batch of foals, and I come home just yakking up a storm about how amazing these babies are; their confirmation is so obvious and you can't shoo them away. They are kind, want to please.
And after these last 7 years of watching and ogling, I get to have my own Chex baby this coming spring. It's pretty hard to beat their level headed-ness.
Christal Corder Kumpula wrote: I have Twix, he was sired by Jiggalo and out of Dee. So he is a Chex grand baby. I can't say enough how pleased I am about him!!! Twix is inquisitive and so smart!! He takes everything in stride like its no big deal!! When I introduce him to something new he has to touch it taste it and play with it first...when it's dinner time waits at the barn door licking his lips it's hilarious, he even buries his poop in his stall. He is extreme neat in the stall and pasture. He only poops in one place in the pasture. That makes it easy to keep clean lol anyone considering a Chex baby I highly recommend you buy one!!! I wish I had more stalls because I would get another!!!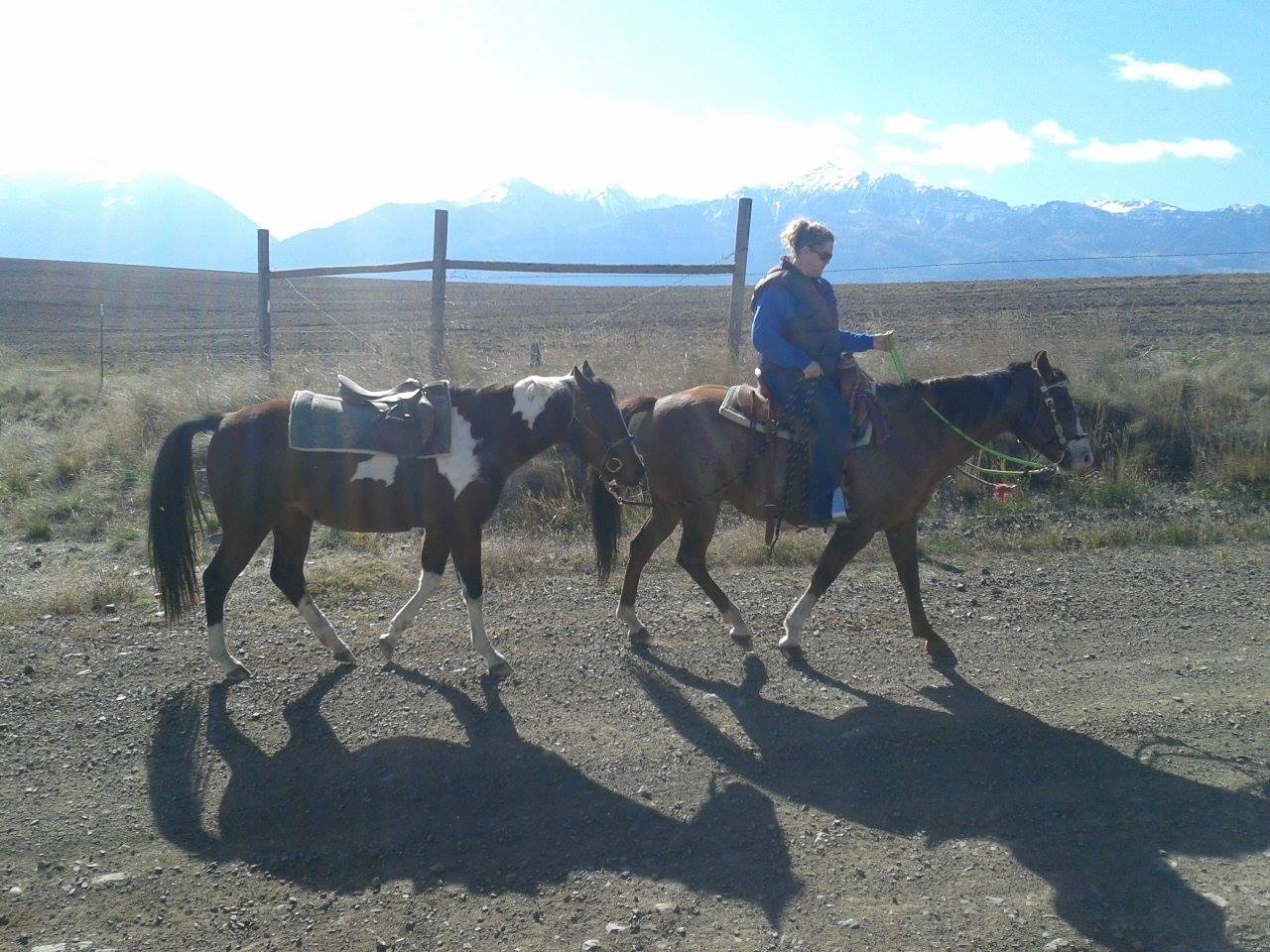 Cindi Aschenbrenner says: I am the owner of Zoey, from Chex and Fancy. Zoey is going to be 3 in April and we have had a pretty significant wound on her back leg that we have been doctoring now since June. At first, she was in a lot of pain (it went about 6-8 inches on her back leg, below the hock) when you touched it. She didn't like it being bandaged, and would sometimes challenge me to see if I was going to be her leader, or let her be naughty. Vixen came and helped me a few times and taught me how to reprimand with love when she needed it. She quickly learned the ropes and now I bandage her alone, sometimes without a halter, and she stands like a champ. Also, this requires sometimes, me basically under her belly trying to get the medicine/bandage/vet wrap/tape on the right places. She is willing, super smart, easy to catch, loads like a dream, and acts more like a 10 year old than a 2 year old. I have worked very little with her ground work wise but she retains like a champ, and we will have her saddled and ponying in October with the vet's permission. I honestly thank my lucky stars that I was lucky enough to get this little sweetheart and that she will be my learning project and no doubt my forever horse. If you are lucky enough to own one too, you will never be sorry! (the photo above it of Cindi and her Zoey in October 2013 first time saddled and bridled)
This is what she said about this day....I can't say enough about this little neigh neigh! Literally I have not moved her feet since June 15 other than to correct her while bandaging. So to take her, saddle her, bridle her and hop on Kat and away we go with not a single ounce of resistance speaks volumes to the mind of this horse and your breeding program! Thank you for the opportunity to own her! LOVE her!!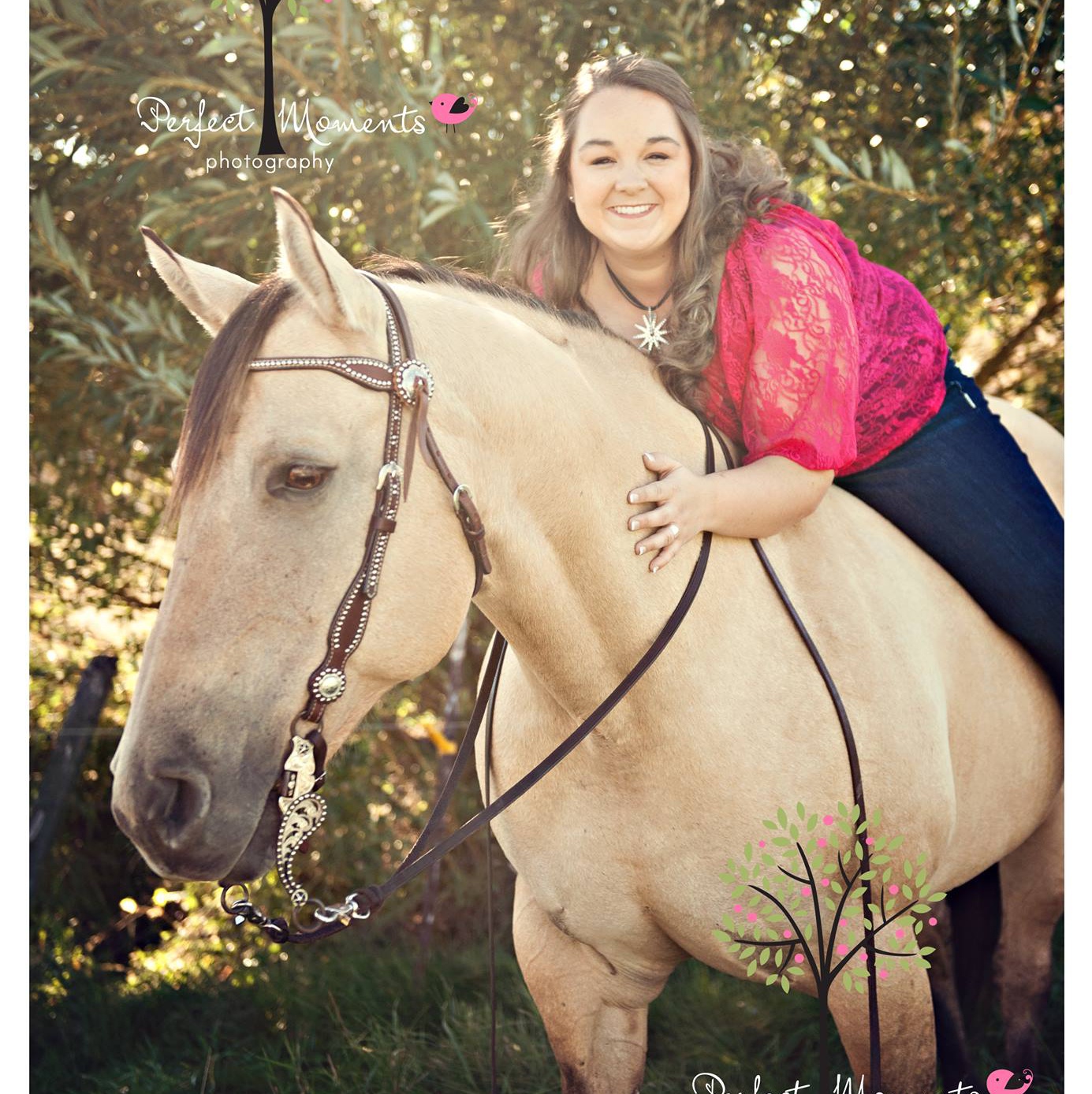 Bailey Dutcher says with smiles (her and her Chex baby above)... I love my Chex baby she is the best!! She will do anything for you ! She has done 4-h, trails, and this last year I was glad I had her as my rodeo court horse. I knew I could trust her for run ins and my parades with all the little kids with sacks running at you I wouldn't trade her for the world!'
We now have a Facebook page just for Chex foals and their owners... so you can follow their progress and their lives!
https://www.facebook.com/groups/313265835523905/ It is called Sonnys Bar Chex "Chex" -Baby Owner